Simmonds to lead medal push
Swimming sensation leads hosts' medal hopes in the pool
Last Updated: 08/09/12 10:15am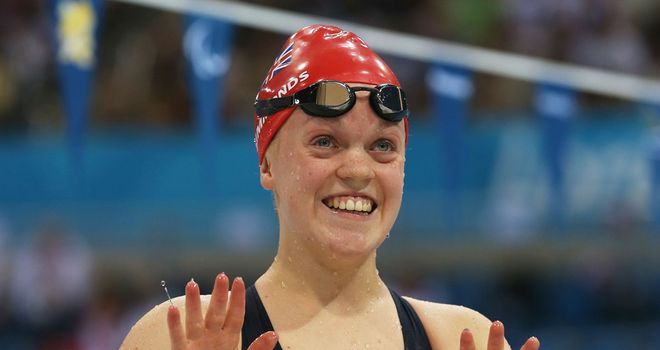 Ellie Simmonds: Looking to claim her third gold medal of London 2012
Ellie Simmonds will make her penultimate trip of London 2012 to the Aquatics Centre on Saturday morning as the hosts look to claim the three medals needed to reach their swimming target.
They moved on to 37 on Friday night after Louise Watkin overcame individual disappointment to fall just three hundredths of a second short of guiding the 4x100 metres (34 points) medley relay team to victory.
Instead, the quartet of Heather Frederiksen, Claire Cashmore, Steph Millward and Watkin had to settle for silver in four minutes 53.98 seconds behind Australia as Jacqueline Freney claimed her eighth title.
That was the only British visit to the rostrum yesterday, though they will hope for better today with Simmonds looking to reach the final of the S6 100m final to add to her one bronze and two gold medals.
Watkin had clearly been upset after finishing fifth in the S9 100m freestyle - a race which signalled the end of 13-time Paralympic champion Natalie du Toit's career - and channelled that into a tremendous relay leg.
The 20-year-old took two seconds off her individual swim with an effort of 1min 02.47secs, the quickest in the field by almost four seconds, as she dragged the team from fifth to within a fingernail of victory.
She said: "I knew that I was close to them in the last five metres. I just put my head down and went for it and came away with a silver medal. It's good.
"It wasn't quite the medal that I wanted but I'm still pleased with a silver medal. It's a Paralympic Games, we're second in the world. It's amazing.
"It (the 100m individual) wasn't quite the event that I wanted. It didn't quite go how I planned. I knew I had to do 100 free again a bit later on. I worked on it in the swim-down, had a long talk with my coach [to] see what I could improve on. I managed to do that for the relay."
Du Toit signs off with silver
Du Toit won silver in the final race of her pioneering career and Bradley Snyder claimed gold a year to the day after he was blinded by an IED while on a tour of duty in Afghanistan as overseas swimmers shone in London.
World record holder Du Toit, winner of the event in Athens and Beijing, finished 0.68secs to take a second silver medal of her Paralympic career behind Australia's Ellie Cole in 1:02.77.
"It is all over," said a tearful Du Toit as she reflected on a 14-year career as an international swimmer.
"I gave everything in the pool, I gave everything as a person. I look back and I'm satisfied. It's time to move on.
"I went out there, tried my best and to get a medal was something special.
"Ellie's a great competitor and to go out there and get second is a little bit disappointing, but it's still a medal."
Snyder of the United States won his second gold, winning the S11 400m freestyle gold in 4:32.41.
"It is an emotional day, but it's kind of a day of celebration," he said.