GB miss out on boccia gold
Thailand end host nation's hopes in London
Last Updated: 03/09/12 9:10pm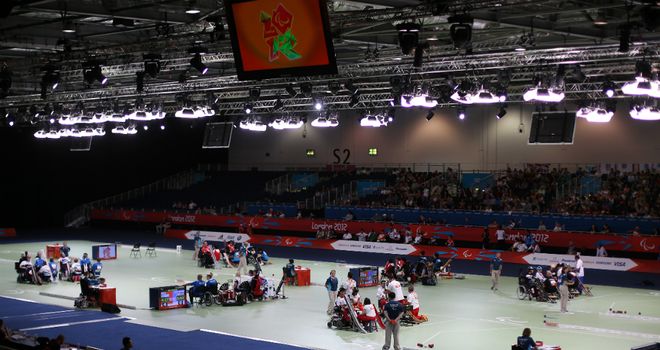 London's ExCel played host to the Paralympics boccia tournament
Britain's hopes of defending their boccia team gold title were thwarted at the Paralympics.
After beating Hong Kong 11-3 in the quarter-finals on Monday morning, Nigel Murray, the mixed BC1-2 team captain, said his team needed to up their game by at least 10 per cent to overcome Thailand in the semi-finals.
In the end they were thumped 18-1 by Thailand, ranked second in the world, at east London's ExCeL arena on Monday afternoon.
The team, including Daniel Bentley, David Smith and Zoe Robinson, did not live up to expectations, according to 48-year-old Murray.
"We are all frustrated," he said. "We're upset because we know we are a lot better than that, but once it has gone there is not a lot we can do about it."
Britain are now in tomorrow's bronze medal play-off against Portugal, while Thailand face China for gold.
Murray said: "We've got to try and think about tomorrow. It is going to be hard because obviously we wanted to win gold but there is nothing we can do about it now.
Philosophical
"We could talk all about it forever but we just didn't play well enough. We just didn't get in it and there is no real explanation.
"We will talk about it now and we'll go through what went wrong, but collectively none of us played well.
"You can't do that in a game. You might have someone having a bit of an off game but against the best players in the world you can't have three players playing badly at the same time.
"We've got to be a bit philosophical and think tomorrow maybe we can put that right against Portugal, who we have already beaten in the pools."
Boccia is a target sport similar to boules or petanque, played on a 12.5m by 6m court, with throwing boxes measuring 2.5m by 1m.
The aim of the sport is to propel balls so they finish as close as possible to a white target ball, known as the jack. Each player gets six balls during each phase of a match, called an end.
Each of the four-strong team has cerebral palsy. Only three play during a match.