Record day for Simmonds
British teenager adds second gold in SM6 200m IM
Last Updated: 03/09/12 9:23pm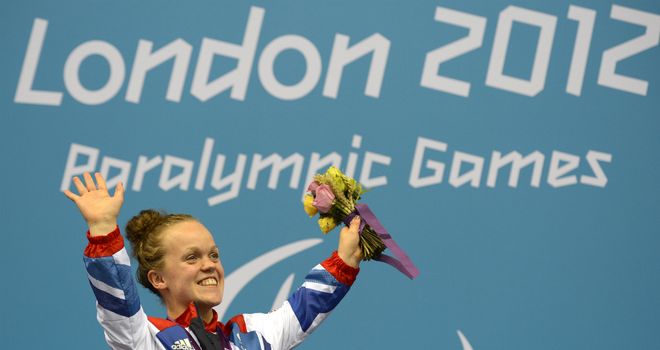 Ellie Simmonds: second world record of the day in the SM6 200m IM
Ellie Simmonds claimed her second gold of London 2012 when she won the SM6 200 metres individual medley and broke her own world record in the process for the second time in a day.
As with her heat swim this morning, the 17-year-old produced a blistering freestyle leg to go past Oksana Kruhl as if she was treading water to win in three minutes 5.39 seconds, dipping 0.75secs inside the mark she had set in the morning.
The Swansea-based swimmer had been shocked by her earlier performance and, on seeing the scoreboard after the final, had a beaming smile on her face.
It was her second title of the week after her success in the S6 400m freestyle, also in a world record time.
GB team-mate Natalie Jones took bronze in 3mins 14.29secs and Liz Johnson was sixth in 3:25.64.
"I'm so pleased that I won - a world record again, another PB and to go on the podium again. I'm just so chuffed," said Simmonds, who received her gold medal from Prime Minister David Cameron.
"Two golds now and I'm going to enjoy it. That was a tough race. I was just trying to go as fast as I can and to do a PB. I'm just really happy.
"My front crawl is my main stroke, it's where my advantage is, where I catch people up. She was ahead of me, and I panicked a bit. I didn't know if I could catch her up.
"I just kicked for home and really went for it."
Jones said: "I've worked so hard for this over the last three months. I'm just so delighted that I've got a medal."
Kindred spirit
Sascha Kindred was under the old world record but still finished second as he made up for his earlier disappointment with silver in the S6 200 metres individual medley.
The 34-year-old had not been dislodged from the top of the podium since first claiming gold in Sydney 12 years ago and this morning went some way to making up for his fourth in the 100m breaststroke as he qualified fastest for the medley final.
Kindred was fourth at halfway before his breaststroke leg pulled him up to second, narrowly behind Xu Qing.
It looked as though it would be a stroke-for-stroke duel but the Chinese pulled away to take 3.37 seconds off Kindred's world record in two minutes 38.62 seconds.
The Briton also dipped inside his old mark to claim silver in 2mins 41.50secs. His team-mate Matt Whorwood, S6 400m freestyle bronze medallist, was fifth in 2:53.08.
Bronze for Rodgers
Susie Rodgers claimed Britain's fourth medal of the night when she dug in for bronze in the S7 100m freestyle.
The 29-year-old came under attack from Ani Palian to her left in lane six but the Briton was not giving an inch and held off the Ukrainian to touch third in 1:12.61.
It was Rodgers' first medal of the Games on what is her Paralympic debut.
Britain claimed their fifth medal of the night when the women's 4x100m (34pts) freestyle relay squad came third in the last event of the session.
Claire Cashmore gave them the lead at the halfway point but Australia took over on the third leg to which Rodgers had no answer to hand over in second.
While Louise Watkin produced a valiant effort on the final leg, she just lost out to the United States in a stroke for stroke duel to touch in 4:24.71, 0.14secs adrift as Australia completed a dominant victory.