Enlightened showcase
Audience will be taken on a "journey of discovery"
Last Updated: 29/08/12 5:05pm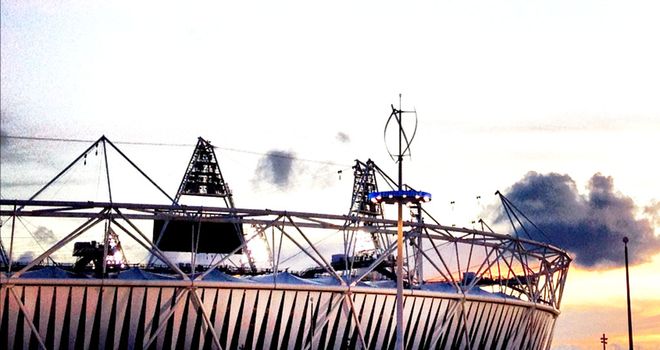 The Olympic Stadium: The venue is now ready to host the Paralympic opening ceremony
Apples, Professor Stephen Hawking, Sir Ian McKellen and a girl called Miranda are to be at the centre of Wednesday night's London 2012 Paralympic Games opening ceremony.
The XIV Paralympics are set to open with a spectacular extravaganza in Stratford as London 2012 resumes following a two-week hiatus with a play focused on humanity and science titled 'The Enlightenment'.
Using Hawking's work on A Brief History of Time, co-artistic directors Jenny Sealey and Bradley Hemmings looked to the 18th century and the Enlightenment for inspiration.
"The Paralympics are absolutely fundamental to that vision of enlightenment. "
Jenny Sealey Quotes of the week
Hawking guides Miranda, from The Tempest, through the show, alongside Prospero, another character from the Shakespeare play in a role filled by McKellen.
Knowledge
Sealey said: "It's when intellectual, philosophical, cultural and social movement took hold and the amount of knowledge that was acquired and disseminated really started to challenge and test things to create the world in which we now live.
"The Paralympics are absolutely fundamental to that vision of enlightenment - transforming perception, the Paralympics do that.
"Tonight you will be taken on the most exquisite journey of discovery, inspired by the wonder of science. It is about changing perception and it is Stephen Hawking who guides us."
Audience participation is encouraged, with spectators to be given apples on arrival at the Olympic Stadium ahead of a Sir Isaac Newton-inspired scene.
Sealey added: "We want to stage the biggest ever apple bite."
Mechanics
Hawking is set to begin the ceremony ahead of the 'Parallel' Games, where 4,280 athletes from 166 nations are to compete across 20 sports for 503 gold medals across 11 days of competition.
Hemmings added: "Stephen Hawking makes the point that even if we understood all the mechanics of the universe, it would still just be a series of numbers and equations. He poses the questions: what is it that breathes life into those equations? What is it that makes it a universe worth describing?
"And, of course, that's humanity. That's what the show is profoundly about - it's about science and humanity.
"We stage, after Stephen's words, this extraordinary big bang."
The showpiece will close with Beverley Knight signing I Am What I Am and observers encouraged to sign and sing along with the music.
London 2012 creative director Stephen Daldry said: "This is about challenging perceptions, challenging about who we are."Organisers describe the show as "profoundly about science and humanity". Miranda, the central character in the ceremony, will fly up and break a glass ceiling and the lighting of the cauldron is going to be "extremely spectacular and like nothing you have seen in previous ceremonies", according to Mr Hemmings.
A flypast by Aerobility, a charity that trains disabled people to become pilots, will open the show. Ex-serviceman David Watson will be at the controls.
Describing it as "an extraordinarily emotional moment", Mr Hemmings said: "We look up and see above us a disabled pilot flying overhead with pyrotechnics and LED lights."
Prof Hawking talks about humanity and out of his words a volunteer cast of 600 umbrella-holding dancers, backed by pyrotechnics, move out to create a big bang and an "amazingly spectacular" opening, he said.
An aerial ballet, a "storm of ideas" and a giant whale will also feature.
There are also scenes which will pitch the audience in Sir Isaac Newton's garden as the apple drops, complete with giant apples in a "slightly mad and crazy maverick world" in which gravity is played with, Mr Hemmings said.
Injured soldiers and past Paralympic athletes are among the cast who have been on an eight-week circus school course in preparation for the event.
There are 50 performers who have been getting ready for a high wire act that will involve aerial work on a 35m tall rig.
There is also a host of deaf and disabled artists, local children and performers newly trained in circus skills.
Ian Dury's song Spasticus Autisticus, penned as a protest to the United Nations declaring 1981 Year of Disabled Persons, will also boom out during the ceremony.
Dury, who had childhood polio, found the idea patronising. It will be a "massive moment of celebratory anarchy", according to Mr Hemmings.
A huge remake of Marc Quinn's 3.6m tall marble portrait of disabled artist Alison Lapper heavily pregnant that once graced Trafalgar Square's fourth plinth in 2005 will also be unveiled as part of the ceremony.
It was picked because it stood as "an icon of the creative and inclusive city that London is", Mr Hemmings suggested.
All the athletes will be centre stage watching the show.
Sir Ian helps to bring the show to the 21st century and the world of modern-day science.
Mr Hemmings said: "It struck me that as we speak there is a fragile vehicle exploring the surface of Mars, called Curiosity. We have also been reminded sadly in the last few days of the miraculous 'one small step' quote (when astronaut Neil Armstrong became the first man to walk on the Moon). Just earlier this summer there was the long-prophesied Higgs Boson particle.
"Jenny and I are very excited to have been on the money in terms of the science particularly as we are from an arts background and all those things have been brought together neatly this year."
A large Hadron Collider, accompanied by a talk from Prof Hawking, is also part of the show.
Soul star Beverley Knight sings I Am What I Am and a specially commissioned track called Spirit In Motion, based on the motto of the Paralympic movement, will be sung by a blind soprano.