Time to shine
The Paralympic Torch relay is on its way to the Olympic Stadium
By Emma Bird. Last Updated: 29/08/12 5:08pm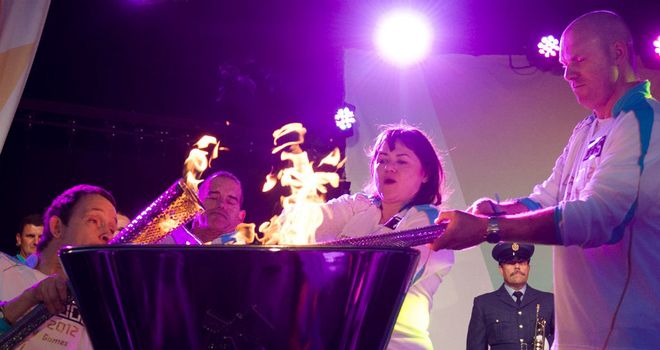 Torchbearers light the Paralympic Flame in Stoke Mandeville
After an exhilarating and successful Olympic Games, the time has come for Paralympians to take the stage in London and show just what they can do in front of the world.
The 2012 Paralympic Opening Ceremony is being held on Wednesday night, and seems set to mirror the spirit of the Paralympic Games - one of challenging perceptions of human possibility.
The Paralympic Flame was lit in Stoke Mandeville on Tuesday night, watched by keen fans and members of the public who gathered late into the night to support the torchbearers on their once-in-a-lifetime journey.
The 24-hour relay will see the Flame, of the 14th Paralympic Games, being carried across London, taking in the six host boroughs, before it flies into its final stop - the Olympic Stadium.
With Team GB producing such magnificent sporting and emotional displays across the Olympic venues earlier this month, the spirit has burned on and Great Britain is ready to embrace a cornucopia of non-stop sport once again.
Expectations
As the Games begin in London, a sense of warmth will encompass the Paralympic bubble, as it is almost a home-coming for the sporting extravaganza.
It was back in 1948 that the Paralympic seed was first sewn in Stoke Mandeville, Buckinghamshire, and now the Games return to 'home' soil with expectations, and talent, bigger than ever.
Since the first official Paralympics were held in Rome in 1960, Paralympic athletes are now huge names across the world. Barriers continue to be smashed, records broken and heroes created.
London will see the largest number ever to attend a Paralympic Games - more than 4,000 athletes will compete over 503 events in 21 sports.
Thursday is the first day of sporting action, with shooting set to provide the first gold of the Games in the women's 10m standing air rifle.
History
Never before have the Paralympic Games gained so much attention, both from the public and the media. The Games are expected to sell out for the first time in history and gain their biggest ever television audience.
The London 2012 Olympics were about proving what Britain could do. Lord Seb Coe concluded: "When our time came, Britain, we did it right."
Now it is time for the Paralympic athletes to shine a light on the world and show that, they too, can do it right.