Village welcomes GB
Music and dance greet Britain's Paralympians at athletes' village
Last Updated: 29/08/12 11:13am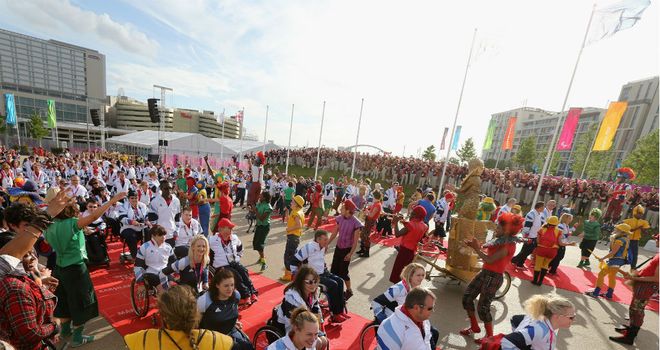 ParalympicsGB: Welcomed into athetes' village
Great Britain's Paralympic team were officially welcomed into the London 2012 athletes' village on Tuesday.
The 300-strong team were among the last of the 4,280 competitors from 166 nations to be greeted by music and dance, as Olympics minister Hugh Robertson and London mayor Boris Johnson watched on.
Wheelchair tennis player Jamie Burdekin, who is set to play in the Quad singles event at his second Games, said: "I'd just woken up from a little nap and I was blown away. I'm not really the theatre-going type and I feel officially welcomed now to London 2012.
"It was a lovely welcome. I'm sure it's only set the standard for the rest of the tournament. Everyone's in the mood and can't wait to get going."
Goalball player Joe Dodson, competing at his first Games, also enjoyed the reception which gave him a taster of an opening ceremony, which he will miss as the British team are in action in the Copperbox. at 9.00am on Thursday.
He said: "It was very captivating and a good advert for what the Games is going to be - very energetic and very loud."
Fantastic
ParalympicsGB chef de mission Craig Hunter was looking ahead to Wednesday's opening extravaganza and the 11 days of competition with even more enthusiasm after the welcome to the village, which was conducted by Baroness Tanni Grey-Thompson, a 12-time Paralympic champion.
"What an amazing reception, and that's really, really special for the team," Hunter said.
"If that was how special the team welcome ceremony was going to be, then clearly tomorrow night for the opening ceremony is going to be amazing and then 11 days of fantastic competition.
"It was superb for us, because it was the one opportunity for nearly the whole team to be together.
"A lot of the athletes won't be able to march tomorrow evening because they'll be concentrating on their competition."
"What's important at a Games is that we focus on performance," Hunter added. "Inevitably there are going to be some athletes and team leaders who need to go and prepare for 11 days of competition. It's not about the ceremonies, it's about winning medals."