Peacock predicts records
British sprinter relishing Paralympic battle with South African
Last Updated: 23/08/12 1:27pm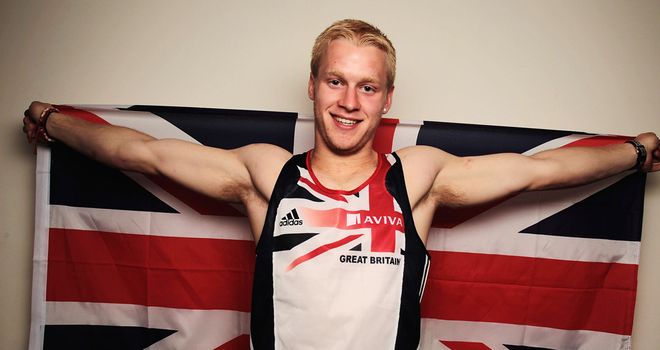 Jonnie Peacock: Predicting record race
Jonnie Peacock predicts his battle of the 'Blade Runners' with Oscar Pistorius could shatter the world record and set alight the Paralympic Games.
At just 19 Peacock is the young gun who will line up against Pistorius and the likes of Blake Leeper, Jerome Singleton and Arnu Fourie in a mouth-watering 100 metres.
Peacock broke Pistorius' T44 world record in June, recording 10.85 seconds to lower the great man's mark by 0.06secs. Now he believes all the medal contenders could run under 11 seconds in a race to prove the Paralympics is about outstanding ability, not disability.
"Getting a medal is not going to be a walk in the park in London. It is so competitive. Everyone could run under 11," said Peacock. "I know Oscar is training his socks off and he is going to get results. It wouldn't surprise me if he broke the world record again.
"I'm just going to concentrate on executing well but I'm pretty sure Oscar's going to be capable of something special and I wouldn't be surprised if Leeper ran a 10.8.
"But no one goes to sleep and says 'I wish I could get that bronze'. Everyone wants the gold. It would mean the world to me, but I'm not going to put too much pressure on myself."
Destiny
He might not be doing so, but come the Games all eyes will be on Peacock with his mop of blond hair plus his youthful exuberance, eloquence and determined belief that gold is his destiny.
Not that Peacock is arrogant. Far from it. He comes across as a rounded, mature, fun-loving teenager, one who is determined to follow in the trail-blazing blades of Pistorius.
Peacock was taken aback when he first saw Pistorius in action, adding: "I was flicking through the channels. Somebody had told me about the guy who runs with no legs. It was the first time I had seen it and I thought 'Wow'.
"Since then I have probably seen every single video Oscar has put on YouTube. It was weird to see all that and then in my first international in 2010 to be in the lane next to him.
"That was surreal. We had a quick chat. I watch that race now and I cringe. My technique was so ugly. But he's doing so much for Paralympic sport, raising the profile with athletes, pushing their limits. He is such a good role model to learn from for anybody who wants to get into sport."
Peacock lost his right leg below the knee when he contracted meningitis as a five-year-old. It is why he believes he will never compete at the Olympics like Pistorius in the 400m, the 100m requiring the dynamic start which Peacock's disability renders impossible.
No Olympics
Peacock said: "The first 200m are Oscar's disadvantage and the last 200 he comes through, everyone knows that. In the 100m there is no last 200 to come through, so unfortunately I cannot see the day when (competing at the Olympics) would happen.
"Saying I would be capable of 10.1 is unrealistic because of the disadvantage at the start. But who knows? Never say never. I thought I was only going to run 11.0 this year and I ran 10.85 and I am going to run faster than that."
That 10.85 put him 18th in the UK in the under-20 age group and training alongside such characters as Olympic athletes Dwain Chambers, Christian Malcolm, Marlon Devonish and Steve Lewis can only see the lad from Cambridge improve.
"Three years ago when I got involved in Paralympic sport I was running 13 seconds and my goal was just to run faster than the slowest person," he said. "I thought if I could run 12.5 I would be happy. Then I wanted to run 11.5. In all honesty I'm never happy.
"I was happy for a split second when I ran that 10.85, maybe for about an hour, then I saw all the things I did wrong and I was instantly annoyed with myself again, saying 'for God's sake Jonnie, when are you ever going to get a race right'?"