Mexican return
Aaron Cook ready to tough out trial after testing trip
Last Updated: 22/12/11 4:50pm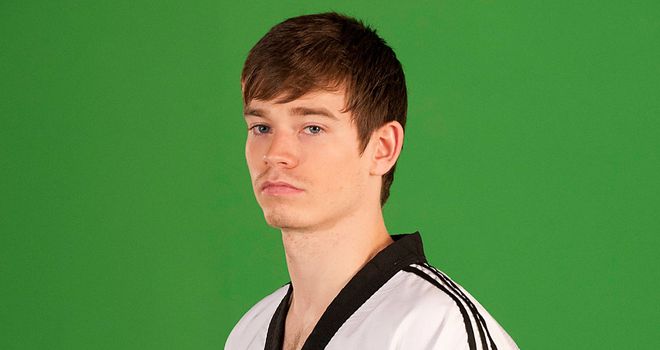 London focus: Aaron can't wait to step out into the ExCeL Arena
I've just spent five weeks in Mexico training with some of the best fighters in the world - and I've got the bangs and bruises to prove it!
I'm not used to fighting every day (I normally fight two times a week, on average) so this was a big step up but it's exactly the type of intensive challenge I need if I'm to make it to the Olympics.
Some of the guys I took on have already qualified for the Games so it gave me a great insight into how good I need to be if I want to win Olympic gold.
The next six or seven months will all be geared to that aim, starting with this week's Olympic test event in London and then the French Open, where valuable ranking points will be at stake.
My coach, Steven Turner, came with me to Mexico for the training camp as did my brother Luke.
Steve, a Royal Marine, has just returned from Afghanistan; we're going to train together two or three times a day, every day from now up until the Olympics and there's no escape because he's moved into our family home!
My strength and conditioning coach Mike Clegg devised a daily training plan but we couldn't afford to fly him out as well but we did at least and we stayed in contact every day.
Mike used to work for Manchester United, the club I support, and he definitely knows his stuff. He's improved my fitness no end and that paid off in Mexico where I fought with some of the top people in my weight division.
Familiarising
A lot of people have said that this week's Olympic test event at London's ExCeL Arena isn't important but I don't see it like that at all.
Sure, the French Open the following week offers something tangible in terms of ranking points, but I've always wanted to do this competition as stepping onto the mat where the Olympics will take place will be an invaluable experience.
It's not just about getting a feel for the place and familiarising myself with the ring and the areas behind-the-scenes; it's also about getting used to the timings because the final is going to be at 10pm, just as it is at the Olympics, which is a bit different from what I'm used to!
I'm sure there will be some tingles down my spine when I go to the ExCeL on Sunday - this is the place, after all, where I could fulfil all my dreams.
The Olympics will be a bit different from the competitions I usually compete in because there will only be one ring instead of four, five, six or even seven.
It will be a little bit raised, too, which us unusual, so it will be good to adjust to small changes like that.
Legends
I'll also get the chance to work with British Taekwondo's new high performance coach Joseph Salim, who is one of the legends of the sport.
He and his brother, Gergely, have won every competition going including the Worlds and the Olympics. For Joseph to come over to Great Britain a year before the Olympics is perfect timing.
As I mentioned in my first blog, I've left the national team set up so I don't get the chance to train with him every day so I'm doubly determined to learn as much as I can from him.
We're actually really good friends - he's been round to my house for dinner a couple of times - so he knows my strengths but also my weaknesses too!
Joseph's style is similar to mine; he was a very aggressive fighter and technically very good too. That means he knows how I feel and think in the ring. Having someone in the chair who has reached the pinnacle of our sport is priceless.
Hopefully I can have four tough matches in London; obviously it will be great to win but it's not as important as doing well at the French Open. If I can win that particular tournament, I'll be in pole position for selection to the Olympic team.
I'm really looking forward to it and can't wait to show how much I've improved in the last two months; I know, though, that I've a long way to go to achieve my overall aim of winning Olympic gold.
That's all for now,
Aaron