Om upsets the odds
North Korean wins men's 56kg weightlifting category
Last Updated: 29/07/12 10:43pm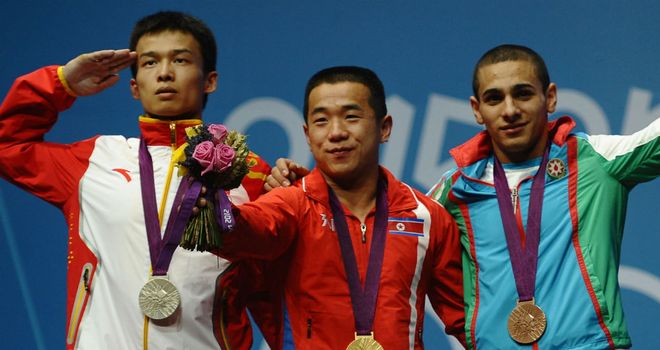 Om Yun Chol (C) : Won despite competing in the B group
Om Yun Chol claimed Olympic gold in the men's 56kg weightlifting category after double world champion Wu Jingbiao failed to make his last lift.
North Korea's Om amazingly triumphed from this morning's B group - supposedly for the second-tier lifters - and was present in the stands to watch pre-Games China's Wu fall short.
Om, only the fifth man in history to lift triple his own body weight, put in a sensational performance as he equalled the world record and set a new Olympic best in the clean and jerk element (168kg).
His overall total of 293kg was four kilos more than managed tonight by Wu (289kg), who had to settle for silver, with fellow A group lifter Valentin Hristov, 18, claiming bronze - a first-ever weightlifting Olympic medal for Azerbaijan.
Kazakhstan's Zulfiya Chinshanlo claimed gold in the women's 53kg division, setting new Olympic and world records in the process.
Chinshanlo lifted 131kg in the clean and jerk - a new Olympic and world best - to set a total 226kg - also an Olympic record.
Medals
The reigning world champion, who only recently turned 19, had earlier produced a snatch of 95kg, which pit her third at the halfway point.
Hsu Shu-Ching of Chinese Taipei edged the battle for silver ahead of Moldova's Cristina Iovu by the slimmest of margins.
Having tied with a total of 219kg, Hsu's marginally lighter bodyweight saw her push Iovu onto the third step of the podium.
In Sunday morning's 53kg B group, Vietnam's Thi Thuy Nguyen edged Yu Weili, from Hong Kong, also by the virtue of a lighter bodyweight after they both tied on a total of 195kg.
That was only enough for eighth and ninth place respectively, however, with the strongest lifters competing in the afternoon's A group.
China's Zhou Jun, predicted to be one of the stronger performers. failed all three snatch attempts.