History for Dutch
Feng and Deng both take gold medals for China
Last Updated: 07/08/12 5:43pm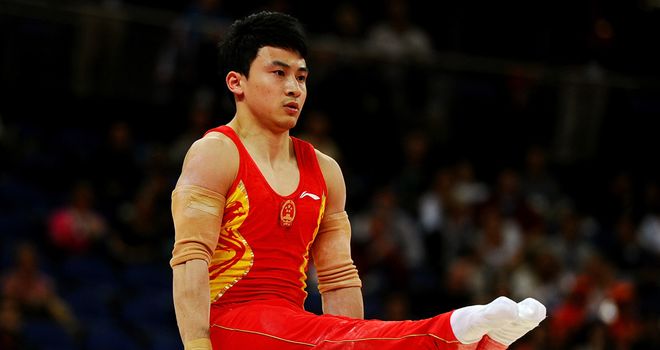 Feng Zhe: Won the gold medal in the men's parallel bars
Epke Zonderland became the first Dutch male gymnast to win an Olympic medal as he was crowned horizontal bar champion.
Zonderland stunned the crowd at the North Greenwich Arena with an electric performance during which he pulled off the most difficult release combination - a Cassina to Kovacs to Kolman - to score 16.533.
Defending Olympic champion Zou Kai of China produced a near-perfect routine with a huge difficulty tariff but could only finish in bronze-medal position as Germany's Fabian Hambuchen claimed silver.
Meanwhile, China's successful campaign continued as Feng Zhe won the men's parallel bars and Deng Linlin was crowned women's beam champion.
Feng scored 15.966 to claim gold ahead of Germany's Marcel Nguyen in silver medal position with a total of 15.800, while France's Hamilton Sabot took bronze at the North Greenwich Arena.
It was the first Olympic medal for France on the parallel bars, Sabot managing to hang on after he was the second to compete and scored 15.566.
Nine gymnasts competed as both Zhang Chenglong and Sabot scored exactly the same difficulty and execution marks in qualification.
Frenchman Sabot went clean and mounted a strong medal challenge before China's second competitor in the final, Feng, rocketed into the lead.
Stylish
Olympic individual all-around silver medallist Nguyen produced a stylish routine to move into second place, but no-one would topple Feng.
Deng Linlin saw off the challenge of compatriot and reigning world champion Sui Lu to claim the win on the beam.
Deng scored 15.600 to take the title ahead of Sui in silver with 15.500 with American Alexandra Raisman claiming bronze following an appeal, which denied Romania's 2004 champion Catalina Ponor a fairytale win.
In the last apparatus final of the Games, Raisman won gold on the floor.
Raisman followed up on her bronze on the beam with an impressive performance to score 15.600 and claim the title ahead of Romania's Catalina Ponor in silver (15.200) with Russian Aliya Mustafina taking bronze (14.900).
World champion Kseniia Afanaseva stepped out of bounds twice to ruin her hopes, while Beijing gold medallist Sandra Raluca Izbasa of Romania, the last gymnast to compete, missed out after a fall on her last tumbling combination