Historic bronze for GB
Men claim first team Olympic medal since 1912
Last Updated: 31/07/12 8:48am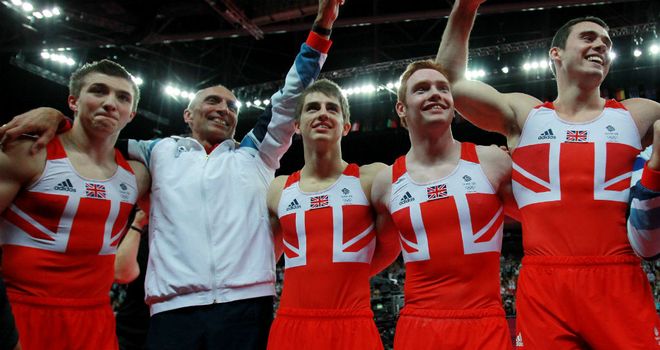 Team GB celebrate after winning their first men's team medal for 100 years
Great Britain secured their first men's Olympic team medal in a century after coming third in the final at the North Greenwich Arena.
Louis Smith, Max Whitlock, Daniel Purvis, Sam Oldham and Kristian Thomas combined to produce a superb team performance, posting a total of 271.711.
Britain at first thought they had claimed silver but an appeal from Japan bumped their scored up and knocked the host nation down onto the third step of the podium.
Defending champions China took gold by a comfortable margin ahead of the closely-matched teams of Japan, Britain and Ukraine, who originally finished third but were denied a medal due to the successful protest from Japan.
Ukraine were in bronze medal position and Japan in silver with the final rotation to go, but brilliant performances on the floor by Whitlock, Purvis and Thomas saw them seal their place on the podium.
The amended result put a slight downer on what was otherwise a fantastic afternoon for Britain, with the home crowd sounding their displeasure after the correction was made.
"I just can't believe it as we just walked away from a home Olympics with a bronze medal."
Sam Oldham Quotes of the week
But a medal of any colour would has exceeded all expectations for the British team, who were going up against gymnastics powerhouses of the United States, Russia, China and Japan.
In a tense finale, it looked as if they had done enough to secure bronze after going head-to-head with Ukraine on the last piece of apparatus as the United States faded away.
Bonus
And in an incredible bonus they leap-frogged Japan as three-time world champion Kohei Uchimura fluffed his pommel horse routine.
But as Japan made an inquiry, which centred on whether or not Uchimura's dismount had been properly credited, with the result finally coming through after a long delay.
"We came into this competition not expecting anything, not putting any pressure on ourselves and came out here to enjoy it," the 19-year-old Whitlock said. "We've done this which is amazing.
"To be honest [the downgrading] doesn't matter. A bronze or silver medal doesn't matter. We've done more than we could have asked for and I can't ask for more than this."
Oldham, who was unable to train six months ago due to injury, said: "I just can't believe it as we just walked away from a home Olympics with a bronze medal.
"It's unbelievable. We put in so much hard work and we're all so happy. To get a bronze medal here is amazing - it doesn't really matter [about not winning silver] to be honest.
"We're very happy to get this."