Oldham: Failure did us good
Gymnast believes Tokyo failure has put Team GB in much better position
Last Updated: 16/01/12 2:58pm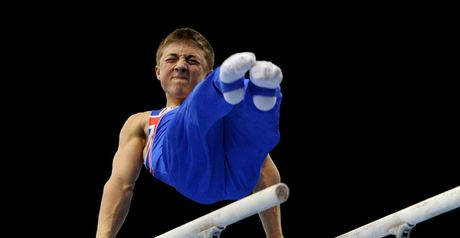 Sam Oldham: Faces a battle to make London 2012 after injury
British gymnast Sam Oldham believes that failing to qualify for London 2012 last year was a blessing in disguise for the men's team.
The team failed to meet the qualifying standard when they competed in the World Championships in Tokyo last year, not picking up any medals.
However, Team GB have now secured a full team for London 2012 following the men's first place finish at the London Prepares test event last Tuesday.
But Oldham believes the team is better off after their failure to qualify at the first attempt, saying he feels it has placed them in a better position in the run up to the Olympic Games.
"If you go back to 2008 we've just been going up and up," he said.
"In sport you can't just be on the rise so I think not qualifying in Tokyo did us the world of good."
The 18-year-old was unable to compete at London Prepares due to a collarbone injury but feels the pressure would have been much more intense on the team should they have won qualification in the World Championships.
Pressure
"Say we'd done really well in Tokyo and got a medal, the pressure would have been on us going into this year 50 times worse than it is, so it's worked to our advantage and the guys did amazingly well on Tuesday," he added.
Oldham has been sidelined for eight weeks following his injury during the World Championships last October and now faces a battle to make the squad with his friend and training partner, Max Whitlock picking up silver at the test event last week.
"It's not the best time right before the Olympic year to get an injury like that but there's a positive in that it's better to have done it then instead of this year," he said.
"I've been competing with Max for the last few years and in the last couple of years it's always been me and him we we're good friends.
"It can only be a good thing for me as it will push me more.
"We'll have to see how things go when we get back, but with eight or nine guys going for five spots it really is going to be tough getting into that team."