Mears through to final
Brit produces best performance of career in 3m springboard
Last Updated: 07/08/12 12:42pm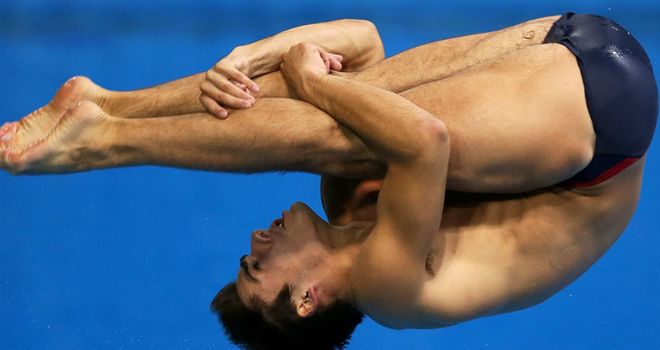 Chris Mears: Produced a shock to qualify for the final
British diver Chris Mears upset the odds again as he set his best international score to qualify for the final of the men's three-metre springboard.
Mears, ranked 48th in the world this year, was not even expected to progress past the preliminary round on Monday night but will now dive for an Olympic medal.
The 19-year-old earned that right with the performance of his career, highlighted by a near-perfect forward four-and-a-half somersault, as he posted 461.00 to place ninth.
The result continued an impressive Olympic champing which comes three years after he was given just a five per cent chance of survival after collapsing during a junior competition in Australia.
The Reading diver had his spleen removed after it was belatedly discovered he ruptured it performing a dive during the Youth Olympic Festival in January 2009.
He lost five pints of blood and was eventually diagnosed with the Epstein Barr virus which left him recovering in an Australian hospital for a month.
Surprise
But Mears, who finished fifth alongside Nick Robinson-Baker in the springboard synchro last week, drew eights for his forward four-and-a-half somersault - his hardest and final dive - to secure his unlikely final berth.
"That was the best performance of my life in front of a home crowd just when it mattered. Now I can say I'm an Olympic finalist," Mears said.
"I can't quite believe it to be honest. I've come from a long way back in 2009.
"I've had a hard time. To be stood up there representing my country and to do a performance like that is absolutely amazing.
"I had no expectations. I was happy to come 18th so it turns out I came ninth."
His score was 25 points more than his previous international best of 436.05 set on Monday.
Defending Olympic champion He Chong qualified in first place ahead of Russia's Ilya Zakharov, who looms as a major threat to China's hopes of sweeping the gold medals in the diving pool.