Payne misses out on medal
British hope comes up short as Hungary's Risztov wins 10km swim
Last Updated: 09/08/12 4:31pm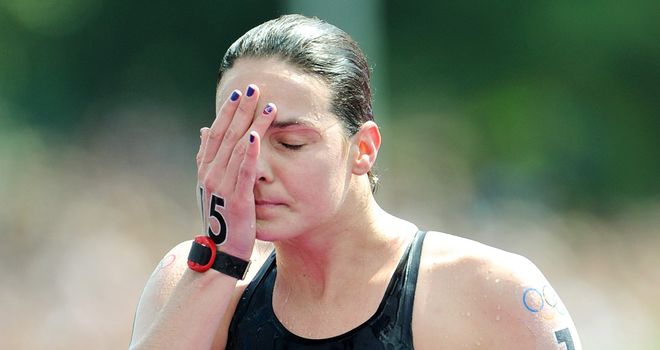 Keri-anne Payne: Finished fourth in the 10km swim in the Serpentine
Great Britain's disappointing swimming campaign at London 2012 continued as Keri-anne Payne finished fourth in the 10-kilometre race in the Serpentine.
Hungary's Eva Risztov raced from the front to take the gold, eight years after last competing at a Games in the pool, holding off a late challenge from American Haley Anderson to triumph.
Expectations had been high before the race that double world champion Payne could upgrade her silver medal from Beijing and give Team GB's swimmers a boost following a disappointing performance at the Aquatics Centre last week.
The 24-year-old swam ahead at the start, but she was never allowed to settle and despite a desperate sprint to the line she finished 0.4 seconds behind Italy's Martina Grimaldi, who took bronze.
After the race Payne revealed that a missed bottle at the feed station proved costly in her bid for glory.
"I've always said that open water is about the best person making the right decisions at the right time and I really had to go and feed and I missed the bottle, and from then I really struggled to get back," she said.
"I was probably working a little bit too hard for how I would normally like to take the pace of the race, and then I just had to get back to a good position. I got there but I just didn't have enough at the end unfortunately."
Considering her future in the sport, she added: "I'm not sure how things are going to go. It's going to be my last for a little while - I think I need a bit of a break from doing 10ks. We'll see. It's not the last of me and swimming, anyway.
"Fourth in the world is not too bad but not what I really wanted."