Miley misses out
Disappointment for British hope as 16-year-old triumphs
Last Updated: 28/07/12 10:01pm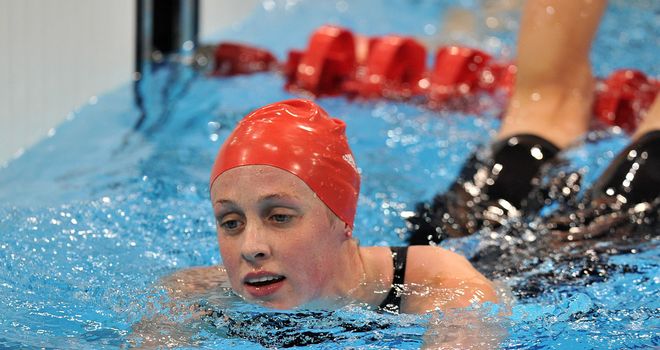 Miley: Finished fifth in the final
Hannah Miley missed out on a medal in the 400m individual medley as China's Ye Shiwen broke the world record in taking gold.
It was the first long-course world record set by a woman since the ban on performance-enhancing suits and the triumph marked China's second of the session after Sun Yang's commanding men's 400m freestyle victory.
Ye, who won the 200m individual medley aged 15 at the World Championships in Shanghai last year, produced a superb freestyle to stretch away and touch in four minutes 28.43 seconds.
The 16-year-old's time took an astonishing 1.02secs off the mark set by defending champion Stephanie Rice in one of the performance-enhancing suits four years ago.
World champion Elizabeth Beisel was second with Ye's compatriot Xuanxu Li third.
For Miley, it was a disappointment although she was never really in the hunt for a medal.
The 22-year-old had been strongly fancied to challenge after her breakthrough on the global stage last year when she was second in the World Championships in Shanghai.
Despite the Garioch swimmer's best efforts, and her customary superhuman effort, she touched two places outside the medals in 4mins 34.17secs.
Best effort
Miley, coached by her father Patrick in a 25-metre pool in Inverurie, was disappointed but knew she could not have given any more.
She said: "I'm feeling all right. Most of the media are expecting me to be depressed and down and in tears.
"I know it wasn't the result that the public wanted, which was a medal, but that was something that they decided to put on themselves, to that expectation of me.
"For me, my target was to try to give the best performance that I could, and I can honestly say that I gave that absolutely 100%.
"This morning was the fastest heat swim I'd ever done, and it was the same for a lot of the other girls.
"It was just a matter of who could recover the quickest and it was the young ones that won."
Breathtaking
Ye covered the final 100m in an astonishing 58.68 and Miley admitted she had been taken by surprise.
She said: "That was very, very fast, and it'll be intriguing to look at the analysis and stuff because there are a lot of things that they've obviously taken from us senior ones and learnt from.
"And, for us, it's an opportunity to learn from them.
"It's just something that it's an absolute a privilege to be part of that race.
"It's not very often you get to swim in the same water as a world-record holder. It would've been lovely to have been up there and challenge that but, at the end of the day, that performance was what I could give and I do apologise to everybody that it wasn't what everyone expected.
"But, for me, I gave it my all and I can't ask for more than that."
Of the crowd at the Aquatics Centre, Miley said: "Absolutely amazing.
"I admit I felt quite nervous going into the call room. But then hearing the crowd cheer for Fran (Halsall) and Elly (Gandy), it just took my nerves away. It felt really inspiring to have the crowd lift you up to some place that you feel these guys are here supporting me.
"It's a very rare opportunity that us GB swimmers get to have.
"So, I'm really, really happy and it's just an experience that'll live with me forever."
Dream
Miley's fellow Scot David Carry touched in seventh in 3:48.62 in a 400m freestyle in which Sun Yang threatened to take down Paul Biedermann's world record.
The 30-year-old, who will marry world open water champion Keri-anne Payne in the autumn, said: "Walking out to that poolside, it was just about the biggest dream come true.
"And going out there in lane eight with that enormous crowd just put the biggest smile on my face.
"It was just completely amazing. That soon changed as soon as I started swimming, because I was absolutely hurting after that swim that I had to do this morning to get into the final."
Relay
The British women's sprint freestyle relay quartet of Amy Smith, Fran Halsall, Jessica Lloyd and Caitlin McClatchey were an impressive fifth in 3:37.02.
Australia won in an Olympic record of 3:33.15 ahead of the Netherlands whose anchor swimmer, Ranomi Kromowidjojo, served notice of her intention in the individual event with an eye-watering 100m of 51.93.
The United States were third with 17-year-old Missy Franklin, she of the size 13 (US) feet, making what is expected to be the first of many visits to the podium.
Halsall will now take time to prepare for the individual event after failing to negotiate the semis of the 100m butterfly.
Ellen Gandy, fifth in Shanghai, reached the final in seventh although she was not especially happy with her performance.
There will not be any British representation in the men's 100m breaststroke despite a sterling effort by Michael Jamieson which saw him finish ninth with 18-year-old Craig Benson in 14th.