Ohuruogu: Talk is cheap
Olympic champion happy to let her running speak for itself
Last Updated: 12/04/12 9:30am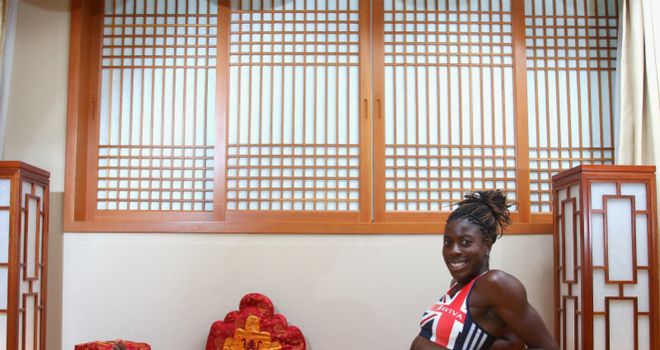 Christine Ohuruogu: British 400m runner back in form after fitness problems
Olympic champion Christine Ohuruogu is shaping up to be a reluctant poster girl for London 2012 despite blazing back to form at the World Indoor Championships in Istanbul.
Despite describing her run as "nothing special", Ohuruogu inspired Great Britain to gold in the 4x400 metres relay and brought a spectacular end to a post-Beijing period marred by injury and loss of form.
Ohuruogu is now being spoken of as a realistic gold medal contender once again, but the Londoner is determined to shrug off the mounting hype and keep her focus firmly on the track.
"I'm really quiet and I prefer to be in the background and let my work speak for me."
Christine Ohuruogu Quotes of the week
"I'm really quiet and I prefer to be in the background and let my work speak for me," she said.
"My coach [Lloyd Cowan] taught me that you have to do my job and run well, and that is all you need to get through.
"He told me that long before I won an Olympic gold medal. That's why it's so ingrained in me even to this day. Everything I do I do with that frame of mind, and that's why I have to say no to a lot of things."
Intense training
Actively rejecting any suggestion that her Istanbul run sent out a timely message to prospective rivals for London,Ohuruogu insists that neither her form nor her belief wavered during a difficult season last year.
She was bizarrely disqualified for a false start in the World Championships in Daegu, but despite poor form leading up to the championships, Ohuruogu claims she had been capable of a strong performance.
"I know last season wasn't what I would have liked but I pushed right through the season and had three weeks of intense training and turned things around," she added.
"Obviously you didn't see that because of the disqualification.
"Even though that happened I was satisfied that I'd done everything every I could. So all this new noise about the indoors and people saying it's a comeback doesn't really mean too much to me right now."