Pete Waterfield devastated after British Swimming take away his funding
Last Updated: 18/01/13 1:47pm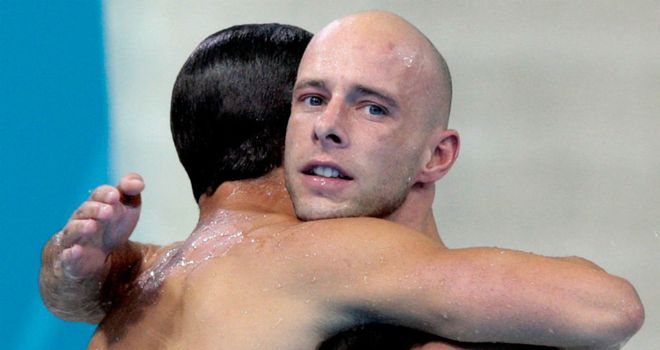 Pete Waterfield: Devastated by funding blow
Former Commonwealth diving champion Pete Waterfield was left devastated after being stripped of his funding.
Waterfield, who came agonisingly close to a medal in London with partner Tom Daley, has been diving for over 20 years and was shocked by British Swimming's choice to withdraw their support.
Diving was given a boost at the end of last year when their funding was upped from £6,535,700 to £7,467,860, which will see the team through to Rio 2016.
Waterfield slammed British Swimming for their decision that will potentially see him quit the sport completely.
"My performance director has known since December and hasn't come to talk to me about it.
"I think there's too many people at British Swimming getting paid too much money who can't do their jobs properly.
"I was promised by my performance director that I would be competing with Tom Daley up until the Commonwealth Games. If I get there then it's only another two years until Rio so why wouldn't I go to Rio and get that medal Tom and I just missed out on in London?"
Waterfield thanked UK Sport for their ongoing support throughout his career, and said the blow is going to be very tough to deal with.
"On my funding, B funding, I get £1700 a month so it's not a massive amount. I get paid on the 25th and by the 5th I don't have the money anymore, I have a mortgage, two kids and a car to run. I struggle for a month anyway but without the funding I can't do anything.
"I've always been grateful for UK Sport's support, without their funding I can't do anything, I wouldn't have achieved my dreams. I've got a massive thanks to say to UK Sport."
The 31-year-old won a silver medal at the Athens Olympics with partner Leon Taylor, and after finishing just outside the medals with Daley in London, he said he was looking forward to making amends in Rio.
"Tom and I were only diving together for two years up until London 2012, and we started picking up medals at major competitions.
"I know we missed out in London but I feel by Rio, with experience behind us, we would be able to pick up that medal."