Tom Daley's mum hits back at British Swimming chief David Sparkes
Last Updated: 10/01/13 2:57pm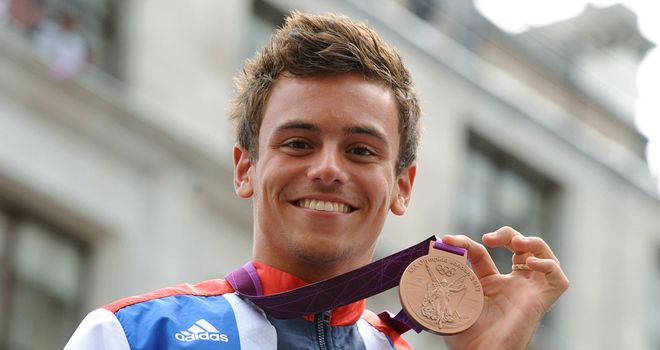 Tom Daley: Defended by mum following criticism from British Swimming boss
Tom Daley's mother has hit back at criticism from British Swimming chief David Sparkes.
Earlier this week Sparkes publicly questioned Daley's decision to front the television show Splash!, which aired for the first time last Saturday, claiming it was an unnecessary distraction to his diving training.
Debbie Daley responded angrily to the swimming chief's remarks in a 1,600 word letter published by the Daily Mail, saying her son's bronze medal winning performance in London helped keep his job with British Swimming.
She wrote: "As far as I'm aware, Tom was one of the few major success stories for British Swimming this summer... and possibly one of the athletes that helped you retain your job.
"Others say that your performance was the worst of any CEO in British sport. Surely you should be thanking Tom and showing your support and gratitude?"
British Swimming was widely criticised after the London Games, falling short of their UK Sport medal target and failing to win a single gold- Daley claiming the only diving medal.
Mrs Daley said her son had been demotivated by Sparkes' leadership and that he had not spoken to Tom since demanding he attend the opening of the SportPark in Loughborough in 2011.
"I find it incredible that you want to criticise him so publicly, when he does so much for your organisation and for sport in the UK - and worse, you do it by giving your opinion without any thought," she said.
"You did not speak to Tom - or his agent - first. Is this a good way for a CEO to operate?
"It's also baffling that you openly criticise Tom when you yourself have called in special favours for Tom to make appearances (such as that eight-hour trip to Loughborough in 2011 when I last saw you).
"A leader should motivate his team, not make them think: 'Why do I bother?' Did you speak out to protect your UK Sport funding and be seen to do the right thing for them? Well, if UK Sport want to demotivate the key person in a sport, carry on David. Good work.
"While you may want Tom to do more training, I would like you to do leadership, media and motivation courses."
In response to the letter, Daley later took to Twitter to thank his mum, he said: "My mum is AMAZING :D x".
The criticism from Sparkes follows last year's reproach from British diving's performance director, Alexei Evangulov, who prior to the summer Games said he believed Daley was allowing media commitments to interfere with his training.
The 18-year-old went on to win bronze at the Aquatics Centre, and dedicated his Olympic medal to his late father, Robert, who died after a six-year battle with brain cancer in May 2011.
"My bond with my son has always been strong but Rob was Tom's rock, friend and role model," Mrs Daley added.
"He would be spitting mad if he had read your media attacks on him over the past 12 months and would have given you a franker view than mine."
British Swimming did not want to directly respond to Mrs Daley's comments but did say they would "continue to work with Daley's family, agent and coach in ensuring he achieves his goals and potential".