Williams - I won't change
Bath slider enjoying the trappings of success
Last Updated: 03/03/10 8:16am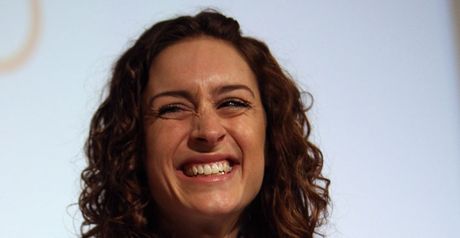 Gold standard: Williams
Olympic skeleton champion Amy Williams has vowed not to allow her Vancouver success to go to her head.
"It would be great for the sport to get my face around."
Amy Williams Quotes of the week
Williams earned Britain's only medal of the Winter Olympics and has since been revelling in her new found fame.
The 27-year-old will be honoured with a victory parade in her home town of Bath and is keen to talk with potential new sponsors over the coming days.
"As yet nobody has approached me but I'm going to try and find the right people to look after me," she said.
"I want to make the most of this opportunity. I hope people will sponsor and help out and help the sport - it would be great for the sport to get my face around.
"The gold medal has been a life-changing experience in that I'm now speaking to the media.
"But ultimately we're athletes - we train hard and work hard. We go to the gym every day, slide down slopes and travel the world.
"That will always be inside me. The other stuff is a massive bonus but I'm not going to change."
Other than Williams, however, the 52-strong Team GB performed poorly in Vancouver, failing to produce any other podium finishers.
Support
But Williams insists the team's success should not be measured by the medal table alone.
"Winter sport athletes are used to the fact that summer ones will always take most of the attention, but we're gradually getting there," she added.
"We have had some success and are getting more money from the lottery and UK Sport, which helps greatly.
"Everyone wants more money so that they become more successful and bring medals home.
"We were a strong a team in Vancouver - everyone got personal bests and that's the main thing. For most of us it was our first time at an Olympics.
"The younger ones need time to learn. Other sports don't have the solid programme that maybe skeleton has and that we've worked over the years to get.
"With more support a few of these young athletes, now that they've been to one Games, will have better experience ahead of the next one."