Rogge calls for Sochi safety
Olympic chief calls for safety not speed in Sochi sliding track
Last Updated: 25/02/10 10:45pm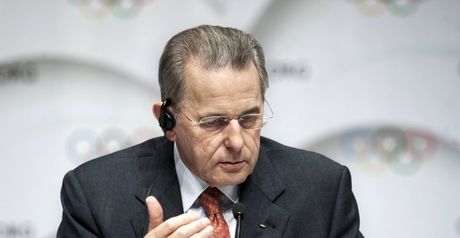 Rogge: Safety concerns
IOC president Jacques Rogge has urged organisers of the next Winter Olympics in Russia to provide as safe a sliding track as possible to avoid the same tragedy as in Vancouver.
"We never asked for more speed in the IOC, never. There's never been any requests to say you have to go faster."
Jacques Rogge Quotes of the week
Georgian luger Nodar Kumaritashvili tragically crashed and died in practice on the opening day of the Vancouver Games, and the Whistler Sliding Center has come under criticism for being too dangerous.
The track in Vancouver has since been modified after multiple crashes in luge, skeleton and bobsleigh, and officials do not want a repeat in Sochi in four years' time.
Rogge said he has written to organisers of the 2014 Sochi Games asking that the track for luge, bobsled and skeleton be built "absolutely for safety first."
"The IOC has been very clear in saying to the Russians: Please deliver us a track that will not be hazardous," said Rogge.
Speed
The building of the Sochi track is due to start this year and organisers have already said it is designed to be 6-9 mph slower than the track in Whistler where Kumaritashvili was killed.
"We never asked for more speed in the IOC, never," Rogge told reporters. "There's never been any requests to say you have to go faster.
"This is something that clearly emanated from the international federation which approved the design. That's not the philosophy of the IOC."
Rogge said the IOC accepted a "moral responsibility" for the tragedy but not any legal responsibility.
"The IOC is not legally bound to the track," he said. "We are morally responsible.
"Our responsibility is to make sure that no unnecessary risks are taken. There will always be risk in sport but it has to be reasonable and the athletes take a lot of risk themselves."
Shadow
Rogge said Kumaritashvili's death will always cast a shadow over the Vancouver Olympics.
"It will be a part of the games," he said. "It would stupid to say the opposite."
At the same time, Rogge said the death should be taken separately from the overall success of the Vancouver Games, particularly the "unique atmosphere" fostered by huge and enthusiastic crowds.
"The people in Vancouver are partying and having fun," he said. "What will stand out is the communion between the citizens and the games."