Giant upset for German
Giant slalom concludes a day later with German taking the gold
Last Updated: 25/02/10 8:51pm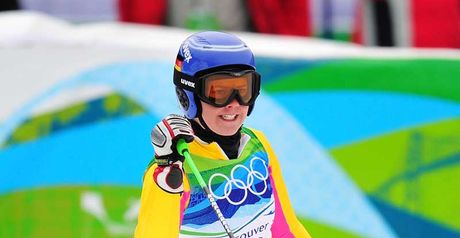 Rebensburg: Olympic gold
Germany's Viktoria Rebensburg scooped gold in the women's giant slalom after the delayed event was concluded on Thursday morning in Vancouver.
Rebensburg was in sixth place after the first run before bad weather forced the event to be postponed and held over until Thursday morning at Whistler.
The 20-year-old German completed her two runs in a time of 2min 27.11seconds to leap up into the gold medal position and deny Austria a first gold in the event.
Austria's women have not yet won an Olympic title in the giant slalom but they looked well placed to break their duck with three racers in the first four after the first run.
Rebensburg denied them the gold though, and Slovenia's Tina Maze came through to claim her second silver of the Games, leaving overnight leader Elisabeth Goergl to settle for bronze for Austria.
Unbelievable
"It's unbelievable," said Rebensburg. "It's going to take a few days to sink in.
"I just want to enjoy the ceremony and the rest of the day. We'll celebrate tonight. I don't think I had as much pressure as the top three but I know I can ski fast and win a race, so I made my own pressure."
Goergl said conditions were still not ideal, adding: "I lost gold but won bronze. It was so close.
"It was a good challenge to get back into race mood. It was a good experience and good practice."
Wednesday's bad weather cost Lindsey Vonn her chance of another medal as she crashed out, while American team-mate Julia Mancuso also saw her chances of defending her title scuppered.
Too much
The 2006 winner skied a quick second run - 1:11.24 - but had too much ground to make up after her first run and was back in eighth place.
"For sure I was bummed out by it, but it was out of my control," Mancuso said of her interrupted run on Wednesday.
"I just had to hang in there and stay in the game, show I was ready to do it. It sucks but sometimes that happens in life."
Great Britain's number one skier Chemmy Alcott finished down in 27th place, 2.83 seconds behind the German gold medallist.
27-year-old Alcott, 25th after her first run on Wednesday, posted a time of one minute 17.53 seconds for a combined time of 2:29.94.