Curlers face Sweden play-off
Murdoch's men under pressure to reach last four
Last Updated: 24/02/10 6:46pm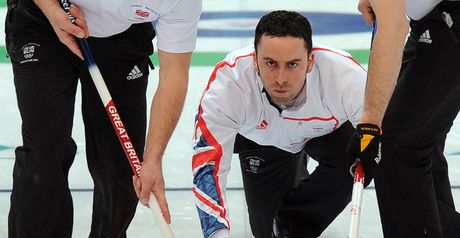 Murdoch: Under pressure
David Murdoch's curling team face a dramatic play-off to stay in the competition after Great Britain lost 9-5 to Norway in their final round robin match.
SKY BET ODDS
Click here
for the latest betting on the Winter Olympics.
The defeat leaves the British side in a tie for fourth place, with the winner of the play-off game against Sweden earning the right to face Canada in the semi-finals.
Despite entering the competition as gold medal contenders, Murdoch remained upbeat about the men's chances after he, Ewan MacDonald, Pete Smith and Euan Byers lost out to Thomas Ulsrud's team.
"At least we're not out of it," he said. "That's the main thing. We play Sweden and hopefully win that.
"If we win we would play Canada. We like playing them, it always brings the best out in us. It is not something we are scared of and if we played Kevin (Martin) it would be one almighty game."
Swedish skip Niklas Edin defeated Murdoch 6-4 in the round robin phase and the Brit knows only an improved performance in the play-off will be good enough.
"It was a great opportunity for us and we didn't take it," he said. "We had some slack shots.
"But the score didn't reflect the game. We just have to bin that and come out again (against the Swedes)."
Disappointment
Meanwhile, Britain's Nicola Minichiello saw her gold medal aspirations evaporate at the Sliding Centre when she and bobsleigh partner Gillian Cooke finished 10th after the first two runs.
Minichiello, who won the world title last year, admitted a mistake at the top of both her runs proved crucial to the performance which leaves her almost a second behind the leaders.
"Overall I'm driving most of the track really well but I'm just making a mistake on corner one and it's killing our speed," she said.
"But on tracks like this anything's possible and we'll bring it back tomorrow."
She is just 0.19 seconds ahead of unheralded team-mate Paula Walker and brake-woman Kelly Thomas, who are targeting a top-10 finish.