Duncan Goodhew discusses the Swimathon and how TeamGB will improve
By Emma Bird. Last Updated: 17/01/13 12:36pm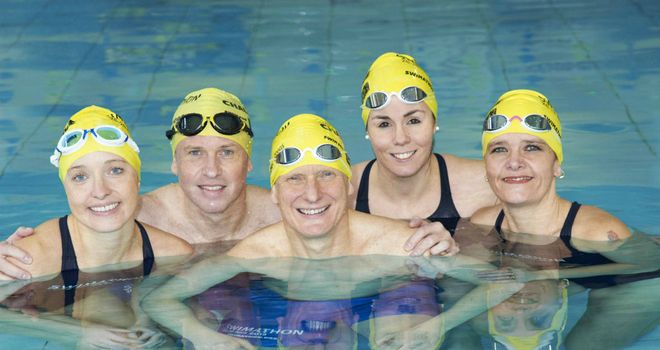 Duncan Goodhew: Swimathon Squad 2013 for Marie Curie Cancer Care
Swimathon President and Olympic gold medallist Duncan Goodhew is hopeful the British team can overcome their troubled experience in London last year.
Launching the 26th Swimathon, which will take place in over 600 pools across the UK from 26-28 April, the former elite swimmer was keen to stress that the GB team was incredibly strong at the 2012 Games, however something just did not click when it came to reaching the podium.
He told SkySports.com: "Overall, they didn't perform and they didn't hit what was expected of them in terms of medals but underneath it, they were second equal in the number of Olympic finalists. The team itself was very strong; they were just misfired.
"They weren't the best times; they didn't swim as well as they had done in the trials, with the exception of some of the breaststrokers."
"Hopefully the next time round, the environment generated and everything else, will be in tune so there is not that misfire."
Duncan Goodhew
With recent funding cuts imposed upon the sport, and with a shake-up amongst the coaching staff following London, Goodhew appreciates why the changes have had to be implemented.
He added: "They are kind of on probation. I understand why funding has to be linked to performance when it comes down to excellence but underneath it all, if you look at the situation as I said, we were second equal on the leaderboard in terms of finalists.
"You can't win unless you're in the final, you can't medal unless you're in the finals."
Goodhew is now looking ahead eagerly to see how the team performs in the coming months and years.
In tune
"I'll be excited to see how we perform in the Commonwealth Games," he continued. "In my view, it's not the swimmers; the swimmers were working hard, they were doing what they needed to do. It was a misfire and I suspect, it wasn't one factor it was a number of factors that conspired to prevent them from winning medals.
"Hopefully the next time round, the environment generated and everything else, will be in tune so there is not that misfire."
In the meantime though, Goodhew will be focusing on this year's Swimathon event as the popularity of the fundraising swim continues to grow.
He added: "People can have different challenges and they can also swim as a team. That's what has really built the success of Swimathon; it is open to swimmers who might not have the ability to swim 5,000m all on their own but if they can club together with friends or business colleagues, they can easily do it."
"It's phenomenal; our swimmers have raised over £38 million for charity so it's been absolutely amazing to be a part of."
For more information visit http://www.swimathon.org