Hits and misses
A week into the London 2012 Games, Richard Moore brings us his half-way highs and lows from the XXX Olympiad.
Last Updated: 03/08/12 9:50am
HITS
1. The Army
You might think the presence of soldiers in battle fatigues would sound a discordant or even slightly threatening note at what is supposed to be a fun and enjoyable gathering.
Not a bit of it. The troops, who are in charge of security, are friendly, relaxed and they seem to be enjoying themselves. Rather than fear, they spread goodwill. Airport security could learn a thing or two.
2. The volunteers
The same applies to the volunteers, who are friendly and helpful and most un-British in their exuberence as they welcome visitors to the Olympic Park in an impressive range of languages.
They contribute much to the atmosphere in and around the venues, and if they're asked to fill some of the empty seats, so be it -- they are probably more deserving than many of the officials and dignitaries.
3. Lizzie Armitstead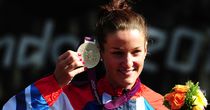 Lizzie Armitstead with her Olympic silver
The silver medal-winning cyclist used her platform to make some serious points about sexism in her sport, and did so in a measured, thoughtful way that ensured she didn't come across as bitter or chippy.
Armitstead also suggested she would like to sit down with the UCI president, Pat McQuaid, to explain her point of view. McQuaid would do well to take her up on the offer.
4. British losers
The British fans love winning, as the reaction to Wednesday's and Thursday's gold medals has demonstrated. But it's not the be-all and end-all, and, conversely, they also love an underdog, especially a British underdog.
They cheered the novice men's and women's Handball teams to the rafters of the Copper Box, even - or especially - as they went down to heavy defeats. Reminiscent of the Tartan Army - even when they're beaten, they're not really beaten.
5. Bert le Clos
The Olympic Games often conjure up great father/son moments. Think of Chris Hoy weeping on his father's chest after his third gold medal in Beijing, or - the most poignant of the lot - Derek Redmond being helped to finish his 400 metres semi-final in Barcelona in 1992.
Bert le Clos had just witnessed his son, Chad, beat Michael Phelps to win gold in the 200m butterfly when he was interviewed by Clare Balding. "Un-believable, unbelievable, unbelievable," he said. Fair to say he was not prepared to be interviewed live on television, which is what gave his appearance its charm.
"Is this now?" he asked at one point. "Yes, it's live," replied Balding, and le Clos recoiled. It was as though he had been cut open: his emotions were spilling out, and he was powerles to stem the flow. "Look at him," he said when he spotted Chad, "he's beautiful, look at this, what a beautiful boy!"
6. Men's artistic gymnastics team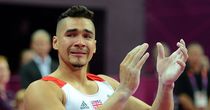 Louis Smith and co were inspirational in the gymnastics
The five members of Britain's bronze medal-winning men's team were compared to a boy band, but their main appeal was that they were nothing like that.
OK, perhaps Louis Smith wouldn't look out of place in such a line-up, but the others were star struck and astonished to find themselves thrust into the limelight. Endearingly, they came across as the most ordinary, down-to-earth young guys imaginable, despite being capable of such magic as we witnessed in the O2 on Monday evening.
7. Valiant effort
Mark Cavendish was deemed to have "failed" to win a gold medal in the road race last Saturday. Even on Wednesday, when the first gold medals landed in British hands, reference was made to the disappointment of his "failure".
Cavendish did not fail. Fact is, a road race is virtually uncontrollable, but that didn't stop the five-man British team from trying to control it. They had no real choice if they wanted a gold medal, because the best chance of winning was a bunch sprint involving Cavendish, the fastest finisher in the world. And the four men did a phenomenal job to try and make it happen, but when Fabian Cancellara and the eventual winner, Alexandre Vinokourov, took off on the final climb of Box Hill, they couldn't respond.
Their tactics were hugely ambitious, the effort was heroic, and the plan almost came off. The fact it didn't does not equate to failure.
MISSES
1. Empty seats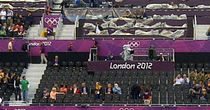 Empty seats have been a major issue in the first week of the Games
There is no more depressing sight than that of rows of empty seats, and it has been a depressingly common spectacle.
But the most depressing thing of all is that the empty seats do not reflect a lack of interest. Whether it is members of the IOC 'family' or sponsors not turning up, there can't be any excuse.
2. Corporate bullying
Sponsorship is a necessary evil, but does it have to be quite so evil? The likes of Visa, McDonald's and Coca-Cola sponsor the games because they like the association, presumably, and because they think it'll be good for their image and, ultimately, good for business.
So why, then, do they throw their weight around to such an extent that they have a monopoly on the Olympic Park and other venues? Is this really the most effective way to endear yourself to the masses?
3. Wimbledon
The atmosphere at Wimbledon is fine, but it doesn't really feel like the Olympics, and it doesn't really feel like Wimbledon, and falls a little short of both. There is also the fact that it is out on a limb - which can't really be helped, given that it would be difficult to transplant the Wimbledon complex to East London, but some players do not seem overly enamoured by the long daily bus transfers from the athletes' village.
4. Meddling officials
Step forward the governing bodies for badminton and cycling for unnecessary meddling.
The badminton players sent home in disgrace have been treated shabbily while the officials who made the rules they were trying (legally) to exploit in order to give themselves a better chance of winning a medal remain in London, free to take up their allocation of seats (or not).
The serial meddlers at cycling, meanwhile, have conspired to make the track cycling programme about half as good as it could have been, thanks to their new rule of one rider per country per event. The new rules concerning the team sprint - which saw the British and Chinese teams relegated - are also baffling.
5. Ye doping suspicion
On the one hand, it is good that questions are asked of apparently suspicious performances. In the past, too few questions have been asked, with disastrous consequences.
Sadly, however, the inquisition of Ye Shiwen, and the implied accusastions of the American coach John Leonard, carried unpleasant undertones. True, China has a poor record when it comes to doping. So does America.