Olympics Panel - Day 6
Throughout the Games, the Sky Sports News Olympics Panel will bring you analysis across a wide range of sports. Here's what our experts had to say on the stories coming out of London today...
Last Updated: 03/08/12 8:23am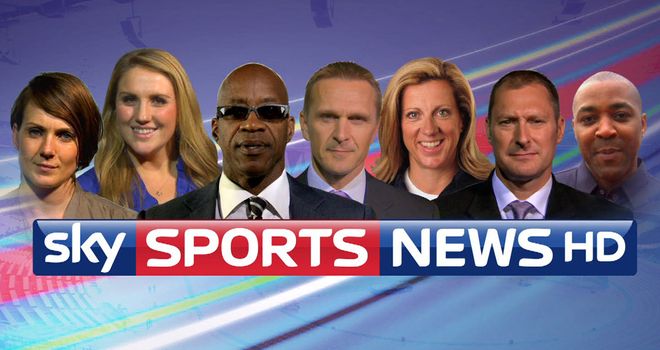 Brian Smith on Britain striking gold in the men's team sprint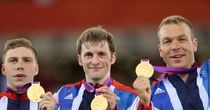 "Britain went out there and absolutely ripped this track up, winning gold in a new world record. They were not even in the medals in the World Championships a few months ago (they finished 15th) but produced a great night on Thursday and the crowd, in their red, white and blue, erupted.
"Sir Chris Hoy has won five golds now and goes equal with Sir Steve Redgrave and what an inspirational man he is. But it's also great to see 19 year-old Philip Hindes in there as well as Jason Kenny who still has the sprints.
"Britain were looking for a man to do the first lap from a standing start and Hindes had to go around in just over 17 seconds and get the other riders up to speed which is some feat; he's going from zero to 60-70mph an hour. He was like a young boy in a sweet shop afterwards!"
Brian Smith on the relegation of Britain's female team sprint pair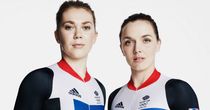 "These things affect your mentality and Victoria Pendleton has to bring herself back up. She is an emotional rider and she might feel she has let people down but she hasn't. This is her final professional event and she wants to win gold medals in London.
"She is out of the team sprint and an individual sprint title is not guaranteed as she is up against Anna Meares who has been strong. Vicky can do it but she has to focus. I really feel for Jess Varnish, too. It's nobody's fault, it's just one of these split-second decisions that went wrong."
Campbell Walsh on Britain's gold and silver medals in the canoe slalom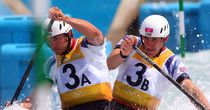 "Tim Baillie and Etienne Stott were first to run in the final, they set a time nobody could beat - including the legendary Hochschorner brothers (Pavol and Peter) who have won the last three Olympic titles - and they won gold.
"David Florence and Richard Hounslow, meanwhile, were last down; they knew Baillie and Stott's time was hard to beat but they missed it by less than one second. They took silver but will be very happy. We knew it was possible that either team could get into the medals but gold and silver is amazing, especially as we have had a terrible time in the other events.
"The four of them are renowned for being incredibly hard workers and they have earned their way to the top of the world, especially Tim and Etienne as they have had serious injury problems. Etienne dislocated his shoulder at Lea Valley in March 2011, despite being a strong boy with a lot of muscle. He had to go through serous rehabilitation just to qualify so to win it is incredible.
"There were 12,000 spectators at Lea Valley and we're not used to that in canoe slalom as it is quite a small sport. The vast majority of them were British with their Union Jacks and painted faces. They were going wild and the sound was immense."
David Wilkie on Michael Phelps winning his 16th gold medal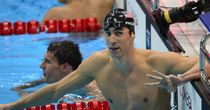 "The guy is amazing. He led from the start. He's strong in the butterfly, but on the backstroke you expected Lochte to come back at him and he didn't. Phelps held it, he's very good on breaststroke and maintained his lead and in the last 50m you thought Lochte was going to come back hard at him, but Phelps held on and got that gold medal. That's what he was after and you could see that tonight. That's probably the best swim he's had here and probably the most pleasing for him. He just looked awesome.
"I think 16 gold medals is a bit greedy. He should spread them around a little bit more! He's been incredible for the sport in the sense that this is going to be his last Games and he's got 20 Olympic medals. It's a phenomenal achievement and if he's not the greatest Olympian then I really want to know who is."
David Wilkie on the future for Ryan Lochte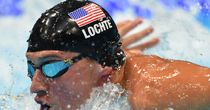 "After this I don't know what Lochte is going to do. I don't think he wants to continue. He's had an average Olympics by his standards and his high standards means winning five gold medals. He's not going to do that. He's a commercial animal and four years is a long time to go between Olympics. It's a tough sport, you've got to be in the pool every single day for hours training 15k to 20k every single day. In that pool it's pretty boring, up and down all the time. Whether he wants four more years, who knows?"
David Wilkie on Fran Halsall's failure to get a medal in the 100m freestyle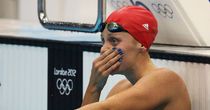 "She could have caught a bronze if she'd swum to her best, but she came in sixth. We've been talking Fran up, I suppose, because she really was someone we were looking at to win a gold in a sprint. The British girls had been swimming extremely well, but I don't think they've all swum that well here. We did expect something a little better than that sixth place."
Darren Campbell on whether Britain can win eight athletics medals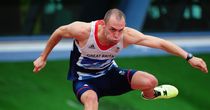 "Olympic medals aren't given out for free; you have to get everything right on the day and take advantage of the opportunity in front of you. The target of eight medals is going to be difficult but if the team can get off to a good start then anything is possible.
"We must begin well, though, and the people who will spearhead that are Jessica Ennis and team captain Dai Greene. If they start right the atmosphere will raise and I'm sure it will spur Ennis on to get the gold medal that she deserves."
Charlie Turner on Rebecca Adlington's 800m freestyle heat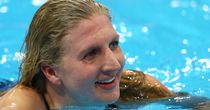 "Becky had a fantastic swim and destroyed her heat. She won comfortably and posted the fastest time from all the heats this morning. Interestingly, though, there was just 11 1/100ths of a second splitting her time with the time of Lotte Friis. The final is going to be a two horse race tomorrow night between those two.
"They're both going to be toe to toe the whole race and it will be about who can put their head down for the last length and who wants it the most.
"I think Becky's world record from 2008 is safe - that's a phenomenal world record. They've just swam seven seconds off that. I expect them to drop four or five seconds tomorrow and still be a long way ahead of the rest of the field.
"Becky looked comfortable and hopefully tomorrow she'll bring home gold. I think she's still the star performer in there but Friis will give her a tough race tomorrow night."
WWE Superstar Mark Henry on Bradley Wiggins' new-found celebrity status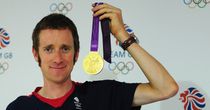 "Bradley Wiggins should embrace being a celebrity, a star and an icon because he is special. People will come up to him wanting autographs which shows that his blood sweat and tears have paid off. It's great that he has won at the London Games and I just wish I was competing here (Henry competed in weightlifting in the 1992 and '96 Olympics). Being on the campus has been an eye-opening experience and you guys are doing a fantastic job."
Sally Gunnell on Ennis v Chernova in the Heptathlon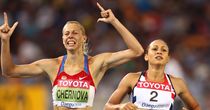 "This is a massive rivalry. Tatyana Chernova won the world championships last year but Jess is in fantastic shape. She cannot have an average event though, but coming into this she has broken the British record and she could not have done anymore. The heptathlon is over two days and she really need to keep her mind strong over those two days. My worry is whether Jess will be able to find that next level if she is brought under some pressure from Chernova, but she is in outstanding shape and I am not sure these girls are going to get anywhere near her."
Sally Gunnell on Greene v Culson in the 400m hurdles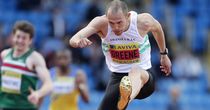 "Javier Culson has been fantastic all year and has beaten Dai but what we have to remember is that there are three rounds. It is a tough event and over the three rounds we are looking for someone who has a bit more strength. Some people can do it over a one-off race but where I think Dai has the advantage is that he has the strength over the three rounds. He is a great competitor and has a great mind on him, he has showed that he can do the rounds and has got enormous strength. I think that will come into play in these games."
Sally Gunnell on Ohuruogu v Richards-Ross in the 400 metres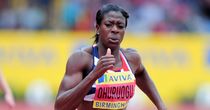 "Christine Ohuruogu has only won one race against Sanya Richards-Ross but that happened to be four years ago in the Olympic final. What I like about Christine is that she is a championship performer and she has shown that. I don't think it matter that she is not going out and beating Richards-Ross in all the races leading up to this. You really cannot write off Christine, that strength she shows through the rounds and the home crowd too will certainly inspire her."
Sally Gunnell on Rutherford v Tomlinson in the Long Jump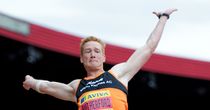 "The qualifying jumps are on Friday and they have to get 8.20m to get to the final. Greg Rutherford is in fantastic form this year and he is ranked No.1 with that British record of 8.35m that he stole from Chris Tomlinson. This is a wide open event and there is no reason why, again with home advantage, we could not see Greg get into the medals - it only takes one jump!"
Edwin Moses on whether training together will affect 100m rivals Usain Bolt and Yohan Blake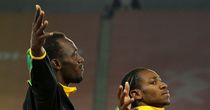 "Carl Lewis had the same situation in 1984 in the 200m with fellow American Kirk Baptiste; they trained together at the Santa Monica Track Club. It is not unusual for training partners to be so strong but you are not racing the guy in training, you are working on technical things, like your stride and your start.
"Plus, so much training goes on inside your head. It doesn't matter if someone is in front of you or behind you, if your running stride is correct and you are processing information you don't really care. It seems they are buddies and it will be exciting to see who wins that race. Blake will come out fast and by no means would I give the race to Bolt."
Edwin Moses on 400m hurdler Angelo Taylor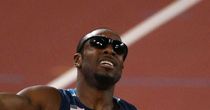 "I think Dai Greene could do well but he is going to have some competition as well from the United States. Angelo Taylor hasn't been talked about that much but he's won two Olympic gold medals in the 400m hurdles (in 2000 and 2008).
"He is 33-years old and has won World Championship medals in this event, relays and the flat 400m. He will be the most talented and decorated person out there and will be threat; I met him in Atlanta a few weeks ago and he was as calm as a cucumber.
"But what this race will come down to is who makes the fewest mistakes as in the 400m hurdles there are 10 obstacles where you can make a mistake, not only when you take off to jump the hurdle but when you come down. The first hurdle is very important as are any adjustments you make from the seventh or eighth hurdle on in."
Cassie Patten on Rebecca Adlington's preparations for the 800m freestyle final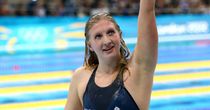 "She'll have a whole night to rest so she'll go back and have some good food. Like every other swimmer she loves her food! I'm not sure if she'll go to the finals tonight; some people like to keep involved and cheer people on as much as possible, but others like to have a proper good rest, put their feet up, not do anything and rest as much as possible. She'll stay out of the media loop while she's preparing for her race. At the end of the day this is what four years of her life have been dedicated to, so it is hard. It's getting the balance.
"In Beijing Twitter wasn't really around and she's a great lover of Tweeting. I'm sure she'll be Tweeting, but I'm not sure how much she'll be reading until after the race. If there are any negative comments - which I hope there isn't - but if there is then it can be a bit upsetting sometimes. On Twitter 99.9% of people are lovely and genuinely want her to do well and then there's then a tiny percentage of people who are jealous because she's achieving something they'll never achieve."
Jon Ridgeon on Jessica Ennis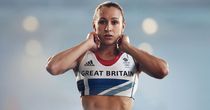 "Jess Ennis comes in ranked No. 1 in the world in the heptathlon; she has had a great year. She has broken the British record this year and has beaten her big rivals - Tatyana Chernova from Russia and also Ukraine's Natalya Dobrinska who is the reigning Olympic champion. But this event is going to keep us on the edge of our seats for the two day it is on. These athletes are so evenly matched and I think the athlete who comes through - and we all hope that it will be Jess - will be the one who can produce life time best performances in all of the seven events , you cannot afford to have one weak event.
"This could come down to a sprint finish in the final event, the 800m. Jess' strength are the hurdles, the sprints and the jumps. In five of the events she is in great form, in the throws - the shot put and the javelin - she is not quite as strong. She has worked really hard on it though. For example the javelin which cost her gold at the world champs last year, she has spent the whole year working on that and reconstructing he technique. I think she is solid though. Her competitive brain is brilliant."
David Wilkie on Michael Jamieson's silver medal in the 200m breaststroke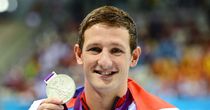 "That was a fantastic swim from Jamieson. He was improving the whole week, he swam fantastically in the heats and he broke the British record - he did that again in the semi-final and then in the final he broke it again. But sadly British records are not good enough when you are up against someone who is going to break the world record, and that is what it takes to win a gold medal at the Olympic Games. I don't think Jamieson expected Gyurta to swim like that - usually the Hungarian lets the other guys do all the work and comes back hard in the last 25m. The roles were reversed because Gyurta was leading and that might have surprised the rest of the field. Jamieson came down very hard in the last 25 but he just did not have enough space to catch him. He will be disappointed, it was the perfect opportunity for him to win gold - it is his birthday on Sunday and it would be a fantastic birthday present but I am sure silver is a pretty good present, too."
Look back at what our experts had to say on day five
Look back at what our experts had to say on day four
Look back at what our experts had to say on day three
Look back at what our experts had to say on day two