Tweet & sour
London is playing host to arguably the first Twitter Olympics. Richard Moore looks at the mixed impact social media is having on the 2012 Games...
Last Updated: 01/08/12 10:47am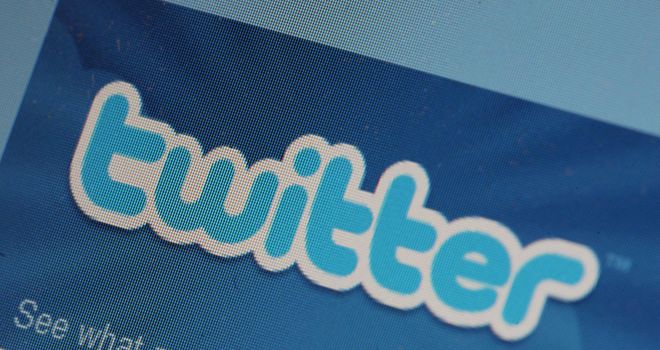 London is playing host to not only the XXX Olympiad, but the first Twitter Olympics. And, just five days in, the social media micro-blogging site is having quite an impact.
Two athletes have been sent home for offensive tweeting; one 17-year old has been arrested for abusing Tom Daly on the social network; and Twitter was even blamed for the communications problems that played havoc with information during the weekend's cycling road races.
The problem barely existed in Beijing because Twitter had yet to take off, at least in the sporting world. But there have been several 'tipping points' since, many of them connected to sport.
TEAM GB ON TWITTER
Many of the Team GB athletes are using Twitter throughout London 2012. We've collated all their tweets into one easy-to-follow page so you can keep tabs on all your favourite stars. Click here to see what they're up to
Lance Armstrong, when he returned to cycling, helped to popularise it in 2009, and Twitter records were set at the 2010 World Cup in South Africa and the 2010 NBA finals, with the current tweets-per-second record established during the 2011 Women's World Cup final, between Japan and the US, with 7,196 tweets per second.
The London Olympics will surely re-write the record books. Yet they may also come to be recognised as another 'tipping point', when, for some, the dangers of tweeting came to outweigh the benefits.
Prior to the Games, the British Olympic Association issued social media guidelines - though not rules, they were keen to stress - to their athletes. Louis Smith, the gymnast, took that as his cue to sign off. On 23 July he announced that his Twitter account would be "going mute" during the Games.
A couple of days later he tweeted: "A brief moment back on twitter..." to thank all those who had sent good wishes after he announced his hiatus. Since then he has tweeted, or re-tweeted, some 41 times, with a flurry following his and his men's artistic team's bronze medal on Monday night. Fair enough.
Daly is another keen Tweeter. But amid the deluge of positive messages following his and Pete Waterfield's narrow failure to win a medal on Monday, there was at least one toxic tweet, which Daly - in what can be a highly-effective counter-offensive - then re-tweeted for his followers to see, and respond to.
It prompted an outcry and an apology from the original tweeter, who then, as he received his own deluge of abuse, backtracked on his apology, and continued to post bile. On Tuesday morning he was arrested.
The most bizarre Twitter-related story of the Games so far came after the weekend's road races. These races took place in a black hole; when it came to such essential information as distance covered, and time gaps between riders, there was a void, leading to irritation for the commentators and frustration for the global audience.
The problem was with the GPS transmitters on the riders' bikes, which apparently were disrupted by overloaded communications networks, clogged up by the million-plus roadside spectators sending pictures and messages over social media. The IOC have therefore asked spectators not to send 'non-urgent' messages. Good luck with that.
As far as the athletes are concerned, the pertinent issue should be how social media can affect their ability to perform. In the case of the Swiss footballer Michel Morganella and the Greek triple jumper Voula Papachristou, the answer is rather a lot, since both have been sent home for posting racist abuse.
Greg Louganis, the former diver, said on Monday that he was glad Twitter didn't exist in his day. Posting messages and interacting with fans is fine, but the danger is that athletes use social media - specifically what strangers, some of them posting anonymously, say about them - as a sounding board. The danger, in other words, is that they listen, and care.
Some learn fast that this is a hazardous road to go down. The Australian cyclist Richie Porte, who found that he gained 4,000 new Facebook friends when he led the Giro d'Italia in 2010, became aware of the pitfalls. When he was doing well, his new 'friends' told him, via Facebook, that he was brilliant. When he wasn't doing so well, they told him he was rubbish. It was at this point that he realised: "I don't have 4,000 friends! So why am I listening to these people?"
"Thank you for your kindness. Messages coming in all day long. I really can't express my gratitude enough."
Euan_Burton on Twitter Quotes of the week
Steve Peters, the British Cycling psychiatrist, who has also worked with numerous other athletes, has spoken to his charges about this. He became aware of the potential risks in 2010, and has warned that social media can be especially "dangerous" in the middle of competition -- especially the biggest competition of your life -- "when you're vulnerable to attack emotionally."
As Peters says: "Your mindset alters when you're in the middle of an intense competition. You're far more vulnerable to criticism and adverse comment, because your emotions are heightened and less stable."
It was after Beijing, said Peters, that the issue assumed more importance. "We performed as a team unbelievably. The athletes excelled themselves. And it was delightful. But you can absolutely predict that somebody somewhere is now going to go for them.
"Had they done terribly then somebody somewhere would have gone for them, too. It doesn't matter what you do in life: somebody somewhere is going to go for you. And I think if you know that's true -- and I think most of us agree that's a truth - you can't control that, so why engage with it? Why not just say: 'I expected that but I'm not going to engage.'"
Easier said than done, perhaps. "But that in itself is a skill," said Peters, "to disengage. And to keep yourself level-headed."
Who knows: perhaps the ability to disengage could also be the difference between a gold and a silver medal.