Jet-set lifestyle
Time has flown for the jet-setting Lucy Boulton as she files her latest Olympic beach volleyball blog
Last Updated: 13/03/12 6:22pm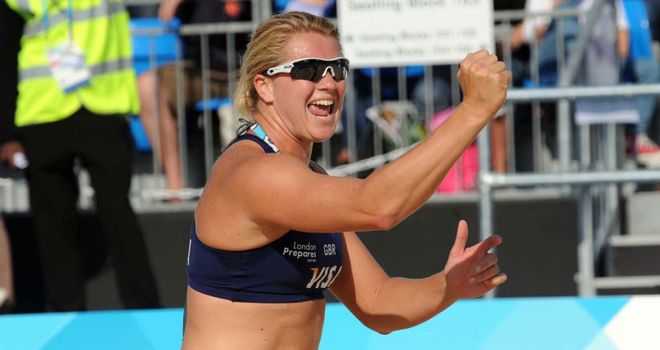 Lucy Boulton: Flying all over the world for training
It's been another month since my last blog and I don't know whether it's because the Games are fast approaching or it's all this travelling we've been doing but these past few weeks have flown by.
We got back from New Zealand and were immediately thrown into a full on week of media and sponsorship activities; including being painted to look like Roman Goddesses for Grazia Magazine whilst being interviewed by the BBC at the same time.
I've got to tell you that it's not easy to answer questions with a straight face when someone is between your legs running a paint brush up and down your groin!
The trip down south was a lot of fun. The actual training was intense and we worked hard, but that's all part of the job and the rewards are worth it. We played in three domestic tour events out there; our best finish was third in the Hamilton Open.
We lost in the semi-final to the Dutch pairing of Kaizer/Van Irsel who won two World Tour events last year and finished 9th overall in the World Rankings; so the standard was very high. We also met our fellow Brits (Mullin/Dampney) in the quarter-finals of two out of the three tournaments and took a win each.
Training
In between the tournaments and training we did have some time off and got to experience a taste of what the North Island had to offer. I tried my hand at sea kayaking and white water rafting, both of which were pretty exhilarating.
It was cool to hang out with the other foreign teams in more of a social context than usual too; outside the stresses of the World Tour season.
It seemed every week we were there it was someone's birthday, so we were able to celebrate with them which was nice - as if being in NZ for a six weeks and escaping the British winter wasn't enough!
Back for only a week and we jetted off again, to Tenerife this time, for a weeks' training camp; the travel never really stops for us as I am now writing from Fuerteventura as we are here for another ten day training camp. I did manage a day off in and amongst all the travelling, which appropriately I spent at a relaxing day spa with my Mum!
While out here we're staying in a fantastic resort called Robinson's which, whilst reminiscent of Kellerman's from the film Dirty Dancing, has everything we could possibly need within the complex; including beach volleyball courts, gym, swimming pool, and a restaurant that serves food 22.5 hours a day.
The only minor problem is it's owned by a German company and has predominantly German guests; so wishing I'd listened more at school and could communicate a bit more than what I've got in my pencil case!
Anyway, must dash as I have a recovery session but will write again soon with my exploits from LA...