Darya Pishchalnikova has been given a 10-year doping ban by the Russian Athletics Federation
Last Updated: 30/04/13 11:42am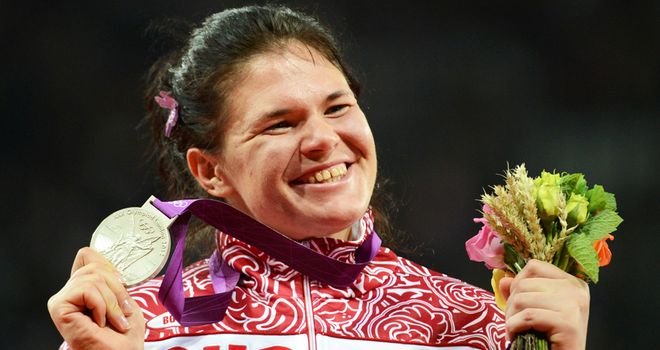 Darya Pishchalnikova with her silver medal in London
Russian discus thrower Darya Pishchalnikova, who won silver at the London Olympics, has been given a ten-year doping ban.
The 27-year-old was handed the stringent sentence after testing positive for a second time, having already served a suspension of two years and nine months from July 2008 to April 2011.
A sample taken from Pishchalnikova in May last year was re-tested and proved positive for the anabolic steroid oxandrolone, the Russian athletics federation said on its website.
Pishchalinko won silver at the world championships in Osaka in 2007 but was stripped of the medal after the International Association of Athletics Federations annulled all her results from May that year.
In a separate case, Yelena Arzhakova has been banned for two years and stripped of her European 800 metres title.
The Russian authorities said the 23-year-old showed an "abnormal haemoglobin profile in her biological passport".