British taekwondo star Sarah Stevenson confirms retirement
Last Updated: 23/04/13 12:56pm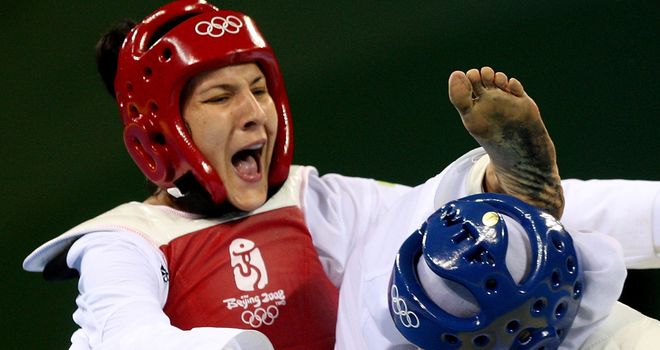 Sarah Stevenson: Became Britain's first Olympic taekwondo medallist when she won bronze at the 2008 Beijing Games
Britain's most successful taekwondo fighter, Sarah Stevenson, has announced her retirement.
Stevenson won World Championship titles in 2001 and 2011 and bronze at the Beijing Olympics in 2008 - Britain's first taekwondo medal at a Games - before competing for the final time at London 2012.
The 30-year-old, who paved the way for reigning Olympic champion Jade Jones and bronze medallist Lutalo Muhammad, will turn her focus to coaching after admitting her body had "had enough".
"I've known in my heart it's what I have wanted to do for a while but I held off in case I missed competition and wanted to go back," she said, speaking at the Great Britain Academy in Manchester.
"I felt this way after Beijing 2008 and thought, 'I am going to stop'. When I did, I missed it so I didn't want to make the same mistake again.
"However, this time I didn't miss it and I am glad I don't have to fight again. I have done enough and didn't want to put my body through anymore."
Stevenson, who lost both parents just months after winning her -67kg gold in South Korea two years ago, has agreed to join Britain's World Class Performance coaching programme to help develop new talent.
"I am excited to finally say I am retiring but it doesn't mean I have lost my love for the sport," she added.
"I haven't lost my determination to be the best and to win. So, I am delighted I have been accepted onto the coaching team so I can help put that into the athletes we have now and the next generation."
GB Performance Director Gary Hall believed Stevenson could have become a five-time Olympian in Rio but paid tribute to her achievements.
"Sarah is a big stage deliverer and in her weight group and ability I thought she could have made it to 2016," he said.
"But she made a decision for her reasons and I massively respect that. Not many people do make the right decision and perhaps carry on too long. She has had an absolutely fantastic career."
British Olympic Association chief Lord Coe said: "As Britain's first-ever World Champion and Olympic medallist in taekwondo, Sarah Stevenson has been a trailblazer for her sport, in the UK and globally," he said.
"Her pursuit of excellence has been tireless and she reached the pinnacle of her sport through dedication and sacrifice."