Athletics: Lord Coe sympathises with Don Valley Stadium closure decision
Last Updated: 10/03/13 11:52pm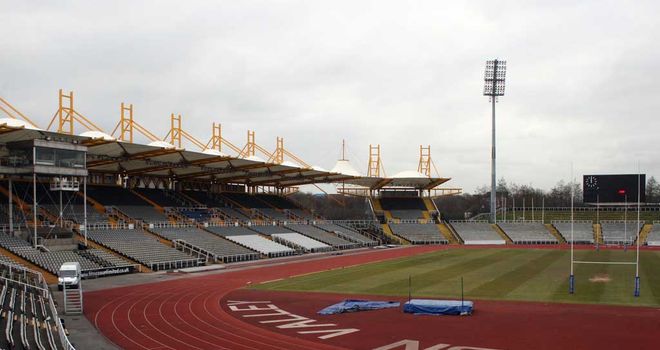 Don Valley Stadium: Jessica Ennis's training hub
British Olympic Association chairman Lord Coe says he understands the decision to shut down Don Valley Stadium - but insists the move does not undermine the legacy of London 2012.
It was confirmed earlier this month that councillors had decided the 25,000-capacity athletics venue in Sheffield, where Olympic heptathlon champion Jessica Ennis trains, would be closed as a cost-cutting measure.
The 27-year-old has expressed her disappointment at the news, while her coach Toni Minichiello has been left "gutted and pretty angry" by a development he believes will prove a major setback for Ennis and for athletics in the region.
But Coe, speaking in Rio de Janeiro ahead of the Laureus World Sports Awards, attempted to allay concerns and revealed a proposal he had seen for redevelopment work at the smaller Woodbourn Road Stadium nearby was a "thoughtful" one.
"If you have a stadium in Sheffield, where there is clearly not a commitment locally to be a home for international track and field, and it is a 25,000-seater facility, I can understand why a local authority has to look at that and make some decisions," Coe said.
"If the refurbishment of Woodbourn Road, which I'm told is an integral part of the development, takes place, then that is a purpose-built track and field facility - and you have to assume that is going to be the proposal. But I'm not sitting there making those judgements.
"There is a legacy there, and it is actually quite a strong one, but this is for a local authority to decide.
"You can't always look at decisions that are made at a local level and suddenly say this is a sign that legacy isn't working. That is a very simplistic way of looking at it.
"Sheffield needs a track and field facility - I don't think anyone is seriously questioning that.
"I understand the clubs are being involved and consulted, and that the universities are looking at it (Woodbourn Road) also as a track and field facility.
"People will make all sorts of judgements - I have seen the proposal and it is actually quite a thoughtful one, and it is not quite the way it is being portrayed, as the loss of a track and field facility."
"If Sheffield clearly is not committing to international track and field, then I can understand why a 25,000-seater arena, which cost £700,000 a year to maintain, is a drain on local resources.
"As long as there is a proper, world-class track and field training facility available to the athletes in Sheffield, and that acts as a regional hub in South Yorkshire... That is what is needed."