Mo Farah announces plans to run first half of this year's London Marathon
Last Updated: 16/02/13 1:57pm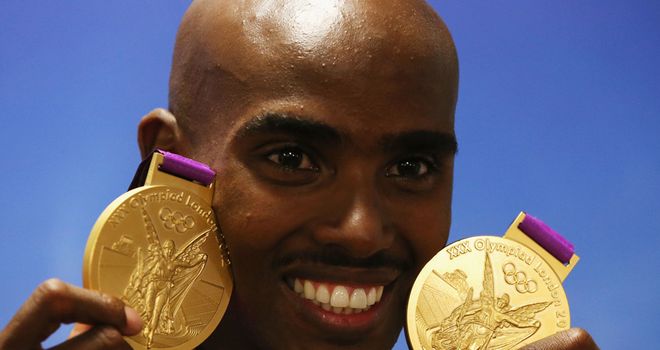 Mo Farah: Announces plans to run the first half of the London Marathon this April
Double Olympic champion Mo Farah has announced he will run the first half of this year's Virgin London Marathon.
Farah previously confirmed he would debut over the full distance in 2014, but spoke this weekend of his plans to line up on April 21 - amongst the likes of world record holder Patrick Makau and Olympic champion Stephen Kiprotich - and run half of the 26.2-mile race.
The 29-year-old, who won Olympic 5,000m and 10,000m gold at the 2012 Games, has always said he would eventually move up to the marathon, with his coach Alberto Salazar suggesting a marathon and 10,000m double at Rio in 2016 may be on the cards.
Farah, who plans to run his first half-marathon of the year next weekend in New Orleans, said: "As a young boy growing up in London it has always been my ambition to run the London Marathon.
"I won the Mini Marathon when I was younger and have watched the race every year for as long as I can remember.
"I will make my marathon debut in the 2014 London Marathon but will run the 2013 race to halfway as part of my preparation for 2014. It will allow me to understand the course and the systems I will need when I run the full distance.
"To run as the double Olympic champion makes it even more special. Dave Bedford (former race director) and the London Marathon have always been there for me and it will be my pleasure to run my first marathon in London."
Farah made his half-marathon debut in New York two years ago when he won in a British record time of 60 minutes 23 seconds.
London Marathon race director Hugh Brasher said: "We are delighted that Mo wants to run with our elite runners this year.
"We have been following and supporting Mo's career since he first won the Mini London Marathon 15 years ago and are full of anticipation for his marathon debut in 2014.
"Hopefully, his experience of the race, the route and the unique atmosphere of the London Marathon will stand him in good stead when he takes on the full race next year.
"We are sure he will gain some valuable insights and come back fully prepared for the challenge."