Dai Greene ran a British 600m record to mark the start of his 2013 campaign
Last Updated: 26/01/13 5:51pm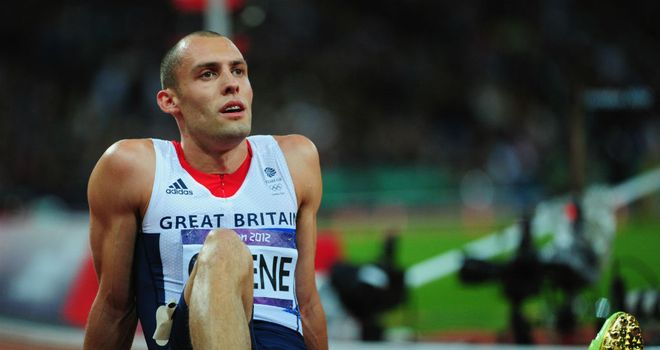 Dai Greene: Ran a British Record to mark the start of his 2013 campaign
World 400m hurdle champion Dai Greene produced the stand-out performance at the British Athletics International Match on Saturday, with a British record in the 600m.
In the first outing for most GB athletes since the summer Games, Greene finished second at Glasgow's new Emirates Arena, behind American Duane Solomon in a time of 1.16:22 - breaking Ikem Billy's 28-year-old record.
In the rare three-lap event, the hurdles specialist finished just ahead of fellow Brit Andrew Osagie, who was eighth in the Olympic 800m final in London.
Competing in his only indoor race of 2013, Greene was pleased with his performance following a disappointing Olympic campaign that saw the world, Commonwealth and European champion finish just outside the medals.
"I enjoyed running indoors for a change and doing a 600. I was very much out of my comfort zone but I enjoyed testing myself.
"I'm pleased with the time and I wish I had put a bit more of a challenge in early doors on Duane, but I think he ran a great race. I would love to do it again in the near future.
"It's nice to get the national record. I knew that either Andrew or myself would get it so I just made sure I beat him to the line.
"The competition between Andrew and myself is all very friendly. I think we enjoyed taking each other out of our comfort zone."
The 2010 world indoor 60m champion, Dwain Chambers, produced a stunning display in the short sprint to take the win from former world champion Kim Collins in a time of 6.58, matching his 2010 season's opening time.
The 34-year-old, who will go for gold at the European Indoor Championships in Gothenburg in March, said: "The season's started very well. I'm very pleased with that.
"I'm most definitely eyeing up the European indoors. The goal is to put up a performance indoors and that involves getting the European title back. I'm going to do my best to achieve that and hopefully that'll carry me through to greater success throughout the summer.
"I'm always looking longer term too. I've still got the enthusiasm to go out there and run, and while the wheels are still spinning as fast as they are I'm going to keep on going."
Pole vaulter Holly Bleasdale produced the only other first place finish in Glasgow after clearing a height of 4.60m, just two centimetres below her world-leading best this year.
Team captain for the event and Olympic high jump bronze medallist Robbie Grabarz finished second, with Britain's No 1 400m hurdler Perri Shakes-Drayton- in her first ever individual 400m flat- also finishing second, just behind a world-leading time from American Natasha Hastings.
Nigel Levine finished second in the men's event, while Laura Muir and Charlie Grice were fourth and fifth respectively in the 1500m.
Margaret Adeoye and Conrad Williams were second and third in the men's and women's 200m respectively, Serita Soloman and Gianni Frankis third and fourth in the 60m hurdles and Scotland's Lynsey Sharp fourth in the 800m.
Britain finished third overall, behind Russia and the USA, with Germany fourth and the Commonwealth select team in fifth.