The London Grand Prix athletics will take place at the Olympic Stadium on Saturday 27 July
Last Updated: 24/01/13 12:27pm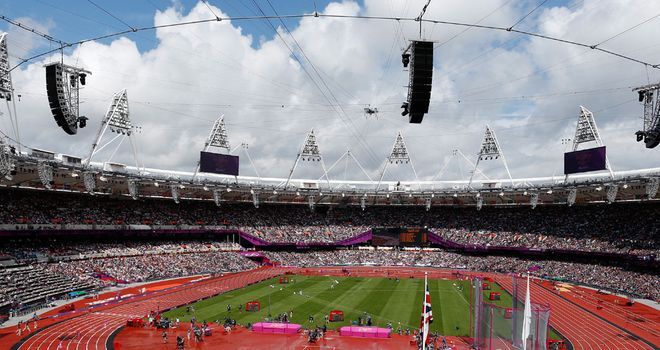 Olympic Stadium: New home of the London Grand Prix
The London Grand Prix athletics event will take place at the Olympic Stadium on Saturday 27 July after it was moved from its usual home at Crystal Palace.
The Grand Prix, which is part of the Diamond League series, will be the first sporting event at the venue since the London 2012 Games and the date marks the anniversary weekend of the Opening Ceremony.
Britain's Mo Farah, who won gold medals in the 10,000 metres and 5,000m at the Olympics, said: "The atmosphere was electric during the Games, I'll never forget it, so it's great that the British fans, and athletes, will get to experience that again so soon after the Games.
"It'll be perfect preparation for the World Championships in August."
Olympic heptathlon champion Jessica Ennis said: "It will give athletes and fans who did not get to experience the amazing venue the chance to go there, and for those of us who had the most incredible experiences on the track and field, an opportunity to re-live a few memories!
"Hopefully I will be there and using the competition as part of my preparation for the World Championships."
Boris Johnson, Mayor of London and chairman of the London Legacy Development Corporation, said: "What better way to mark the anniversary of the tremendous London 2012 Opening Ceremony than to see this stadium packed again as the world's top athletes compete in this unique series.
"After last summer's amazing Games we can now see the stadium's legacy emerging as a top venue for both international sport and entertainment.
"I am ever confident that in the coming years we can look forward to seeing Queen Elizabeth Olympic Park staging a wide range of major events with their organisers and audiences drawn by its perfect location and unrivalled facilities."