Jessica Ennis calls delays to stadium re-opening a "huge shame"
Last Updated: 19/12/12 10:04am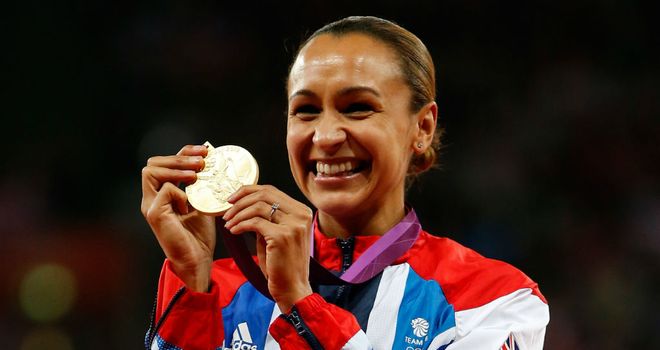 Jessica Ennis: Disappointed with delays to the re-opening of the Olympic Stadium
Britain's golden girl Jessica Ennis has called the delays to the re-opening of the Olympic Stadium a "huge shame" after it was revealed it may stay closed until 2016.
West Ham have been named preferred bidder to take over the Stratford stadium, but the London Legacy Development Corporation have said the stadium will not open before 2015 and maybe as late as 2016.
UK Athletics were unimpressed after hearing the decision, with aims to stage events next summer, and 26-year-old Ennis said all athletes would be disappointed.
She said: "It's a huge shame because we put on such a great show in that stadium and it does seem a long time to wait.
"It was such a great stadium to be in and an amazing atmosphere and I would just love to see those crowds back in there.
"We have the 2017 World Championships there which is great, but I think all the athletes would love to see it being used before then."
The Sheffield star, who has been named in the shortlist for Sunday's Sports Personality of the Year Award, said she was delighted to be one of five women on the 12-strong list.
Ennis said: "I think after the disappointment of last year of not seeing a single female in the top ten, what British women have done in sport this year has been amazing.
"To have five women on the shortlist is incredible but it's fully deserved."
After launching herself back into training following her Olympic comedown, the former world indoor and outdoor champion admitted it's been a tough task.
"It is definitely hard getting back into it. The motivation is different. This time last year I was working so hard to get to the Olympics and was so focused and driven," said Ennis.
"Once you have achieved those goals it's different.
"To get back into that horrible training, especially when it's horrible weather and freezing cold, is really difficult, but it does feel good too because I was feeling quite unfit.
"I'm working towards the World Championships next year now, and then after that the Commonwealth Games, with Rio in the longer term.
"But it is hard to refocus yourself and think about something so far away.
"With other challenges I have always been really intent on moving on but with the Olympics it has been a completely different feeling.
"To be able to experience the Olympic Games on that level and in your own country was something else.
"I often think back to those days I was doing the event, especially the Saturday night, and it just makes me smile again."