Katherine Grainger backed to go for gold again in Rio aged 40
Last Updated: 28/11/12 9:01am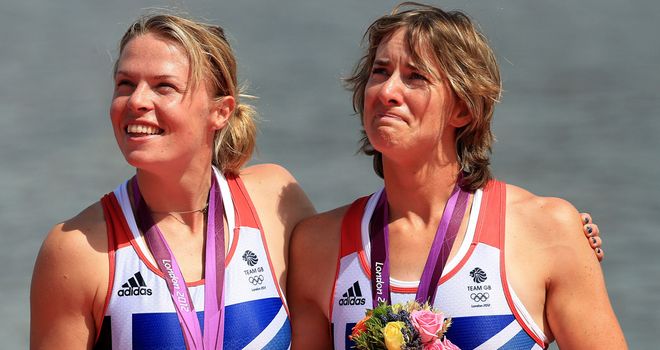 Katherine Grainger: Has been backed for Rio in four years' time
Olympic champion and London 2012 star Katherine Grainger has been backed to go for gold again at the Rio Games in 2016 at the age of 40.
Dave Tanner, rowing's performance director, said he believes Grainger "still has the bug in her" despite the fact she would be two years older than Sir Steve Redgrave when he won his fifth gold aged 38.
Having won the double sculls in London with Anna Watkins, Grainger is close to making a decision on whether to row again in 2016; however Tanner insisted he would put no pressure on her.
"Why not if she really wants to do it, and there is no pressure from us."
Dave Tanner
Before winning gold this summer, she had won silvers at the three previous Games. The rower is on the 12-strong shortlist for the Sports Personality of the Year award - the first rower to be nominated since Sir Matthew Pinsent finished runner-up to Kelly Holmes in 2004.
Tanner added: "She needs to decide whether she wants to try for Rio or not.
"She's a busy lady at the moment and it is a big decision to make. She will be 40 when Rio comes around, but if she wants to do it, it's another little mountain to conquer and she's two years older than Redgrave.
"Why not if she really wants to do it, and there is no pressure from us. We are having a nice dinner in a couple of weeks and I imagine that will be an important conversation.
"It's a life decision. If you are 21 then fine, but if you are 37, because she's a very talented lady she can do other things, but she has still got the bug in her.
"She's not there yet in her mind but it would be a good story."
Status
Tanner also welcomed Grainger's appearance on the Sports Personality shortlist as one of five sportswomen - a contrast to the all-male list last year.
He added: "It's fantastic, and for goodness sake the BBC had to redress the balance of last year. I know we have had Sir Steve and Sir Matt, but it's tougher in our sport to actually get the personalities in front of the public because they are almost all in crews.
"There is a point where you reach a mildly iconic status and if she's a bit of that status then it's great she's on there and I hope people vote for her."