Farah: 2012 was perfect
Olympic hero thinks 2012 success will not be repeated
Last Updated: 14/09/12 4:37pm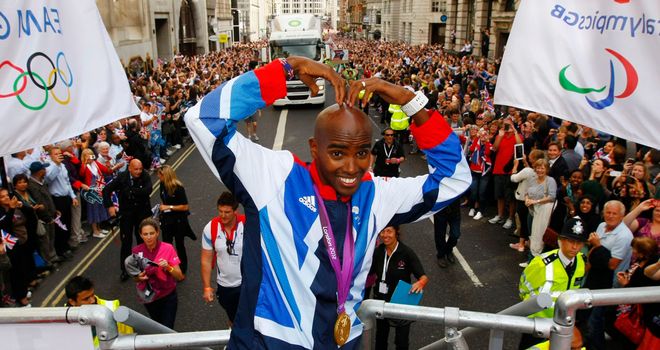 Mo Farah: Thinks Britain will not be able to emulate 2012 heroics
Double Olympic gold medallist Mo Farah believes that Britain will never be able to emulate the "perfect" sporting summer of 2012.
Britain staged hugely successful Olympic and Paralympic Games, while Bradley Wiggins' Tour de France victory and Andy Murray's US Open win have made this year truly historic.
And Farah, who will run in a two-mile international guest race at the Great North CityGames on the Newcastle-Gateshead Quayside on Saturday, thinks it is likely to be a one-off.
"We will never have another summer like this. We cannot do this again. It's been a perfect summer of sport," he said.
"We have had the Olympics and Paralympics on our doorstep, but then there's also been Bradley Wiggins winning the Tour de France and Andy Murray winning a grand slam. Brits just don't do that."
Farah's victories in the 10,000m and 5,000m ended Great Britain's long wait for a men's long distance Olympic title and, in the process, established the Somalia-born athlete as a household name.
"We will never have another summer like this. We cannot do this again. It's been a perfect summer of sport."
Mo Farah Quotes of the week
Training
His new-found fame has taken him by surprise, but he insists he will be able to remain focused on attempting to remain at the pinnacle of his sport.
Farah added: "As athletes, you cannot forget what gets you here in the first place, and that's the training.
"I have to keep my feet on the ground. I have a great team around me and they keep my feet on the ground, and I have to keep doing what they tell me to do. If you don't have that, it could lead to other ways."
Farah has found himself in demand since lighting up the Olympic Stadium with his stunning performances, and says he always tries to find time for the fans.
He said: "Everyone's been so nice. They recognise me in the supermarket, when I'm out having a meal, all over. People are just genuinely nice.
"How can you say, 'no' to somebody when they are asking you for a picture or an autograph nicely? They just want to say 'well done' really, and it's been brilliant.
"I was in a restaurant the other day with a mouthful of food, and someone came up to me and asked me to do the Mobot. I just had to say, 'sorry, I'm having my food.' But I don't regret inventing it at all - it's been brilliant."