Daley's platform for success
Road to Olympic bronze not plain sailing for diving sensation
Last Updated: 11/08/12 10:49pm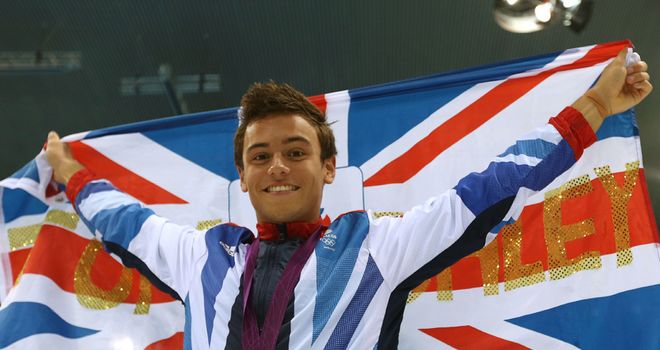 Tom Daley: Won an Olympic bronze on Saturday
Teenage diving sensation Tom Daley has packed in more sporting success in his 18 years than most would hope to achieve in a lifetime.
The diving posterboy from Plymouth, Devon, has repeatedly had the prefix "youngest-ever..." in front of his name as he has been a firm fixture on the international sporting stage from an early age.
At 13 he became the youngest-ever European champion when he claimed gold in the men's 10m platform in Eindhoven in 2008.
Later that year he became the youngest-ever male Olympian from Great Britain when he competed in the Beijing Games aged just 14. At 15 he then became Great Britain's youngest-ever world champion in Rome in 2009.
But Daley's success has also been tempered with personal tragedy - in May last year his father Rob died following a long battle with brain cancer.
Mr Daley, who had accompanied his son to tournaments and become a familiar figure at the poolside, had vowed to survive his illness long enough to watch his son compete in this year's Olympics.
Although he did not manage to live to see this, he did manage to be present when his son won a gold medal in the World Series in Sheffield a month before his death.
The teenager has also had to deal with bullying at school, which led to him leaving in 2009 and going on to study at the independent Plymouth College.
There, he proved to be not just a world-class talent on the diving board, but a whizz in the classroom as well, graduating with straight As in maths, Spanish and photography A-level.
Fell out
His diving career has not always been plain sailing nevertheless.
He famously fell out with partner Blake Aldridge when he took a call from his mother between dives in the 10m platform synchronised during the Beijing Olympics. The pair finished in eighth place.
Daley was also unable to dive with Aldridge at the British Championships that year after he was punched unconscious during a nightclub brawl.
Daley's father later said his son would never dive with Aldridge again, describing the older man as "not a good influence".
The teenager has also had to contend with public criticism after earlier this year British Diving performance director Alexei Evangulov said he should cut down his media commitments or face missing an Olympic medal.
Evangulov also claimed Daley's Chinese rivals "worked three times harder".
Soon after this, Daley and Pete Waterfield finished a disappointing seventh in the platform synchro at the World Cup in London, after which Evangulov likened Daley to fallen star tennis player Anna Kournikova.
Best
However, in recent months Daley has proven to be back to his best, becoming the overall platform champion at the World Series in Mexico in April, and achieving a personal best.
The diving star also reclaimed his European platform title in Eindhoven in May, followed by the British platform title in Sheffield last month.
At the time, Daley told reporters he believed he was in the form of his career and he was confident of success during the Olympics.
But even during London 2012 he has had difficulties to face.
A 17-year-old youth was given a warning by police after Daley received abusive messages on Twitter.
Daley and Pete Waterfield missed out on a medal in the first week of the Games when they finished fourth in the men's synchronised 10m platform diving event.
Shortly afterwards, Daley retweeted a message from a user which said: "You let your dad down i hope you know that."
Daley responded by tweeting: "After giving it my all... you get idiots sending me this..."