South Africa win relay appeal
Pistorius delighted to be handed second chance at medal
Last Updated: 09/08/12 2:58pm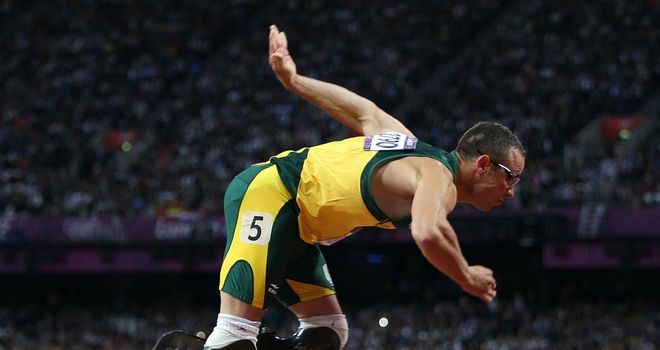 Oscar Pistorius: Will compete in relay final
Oscar Pistorius is delighted South Africa have been awarded a place in the 4x400metres relay final on appeal.
Pistorius was due to run the third leg in Thursday morning's heats but did not even get his hands on the baton after team-mate Ofentse Mogawane collided with Kenya's Vincent Mumu Kiilu around the top bend on the second leg.
Both athletes were sent sprawling to the track and although Kiilu was able to resume running, Mogawane suffered a suspected dislocated shoulder and could not carry on.
The Kenyan team were disqualified and South Africa lodged a successful appeal which saw them added to Fridays final in lane nine, with LJ van Zyl replacing Mogawane.
"IT'S ON!! We in the FINAL," double amputee Pistorius wrote on Twitter. "Team management Protested as Ofentse was taken out and we have been given Lane 9!! Thank you Lord! Emotional roller coaster!"
Selected
Pistorius won a silver medal in the relay at the World Championships in Daegu last year, although he was not selected for the final after running in the heats.
Speaking of the incident, before the appeal was made, Pistorius said: "I was standing there and I took my eyes off the screen and kept them on the straight and obviously just as I took them off it must have happened.
"He's not the biggest of guys and initially I thought he was maybe pushed in behind someone and then I just carried on looking and he didn't come out. It's really tough at the moment. I feel sorry for my team-mates, they're a phenomenal group of guys.
Mind-blowing
"It's just really disappointing for us because we came off a second place at the World Champs last year and a national record and we've got more or less the same team."
As for his own experience of the Games, Pistorius added: "It's been absolutely phenomenal, just stepping out there again today on the track in front of a crowd like this has been awesome.
"This whole experience has just been mind-blowing for me, I can't describe it in so many words, I'll be speaking for days."
The Bahamas and the United States were the fastest qualifiers after being given the same time of 2:58.87 in heat two, ahead of Trinidad and Tobago and Great Britain who were also given the same time of 3:00.38 in heat one.