Chief targets more glory
Brailsford maintains stance on Team Sky role
Last Updated: 09/08/12 11:26am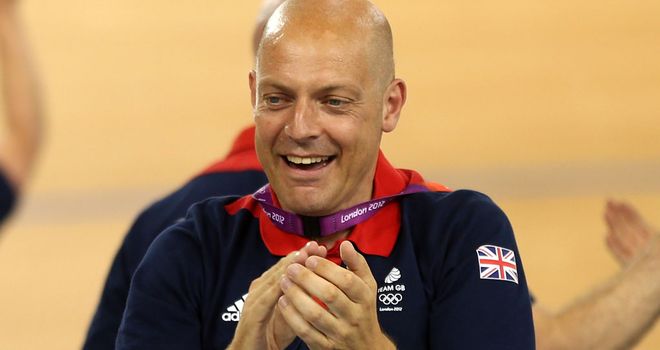 Dave Brailsford: wants to help Team GB to Rio success
Dave Brailsford is determined to maintain the momentum which has brought Olympic and Tour de France cycling success.
The British Cycling performance director also believes the glorious summer has vindicated the relationship with Team Sky.
Britain's cyclists have won eight gold medals, two silver and a bronze to date in London 2012, with the track haul of seven titles from 10 events emulating the haul of Beijing in 2008.
The success followed Bradley Wiggins' first Tour triumph by a Briton, overseen by Brailsford in his role as Team Sky principal.
The link between Team Sky and British Cycling was subject of a Deloitte audit, commissioned by UK Sport to protect use of Lottery funding, and findings showed the partnership to be mutually beneficial.
"I am a big supporter of UK Sport but on a personal level I don't think they should have questioned my ability," Brailsford said.
"I didn't think there was any need for a report. I don't take things lightly and it was clear as the day is long for me that the obvious thing to do was to have a pro team and then go and try to win the Tour - and keep this going.
"You've got to go there and think, 'Let's go and win all 10'. That's got to be your starting point."
Brailsford on Rio target Quotes of the week
"The thing about British Cycling is it is a system; I'm not a coach, I look after a system.
"The system works because it's got very good people within it. I have to tinker with it every now and again, keep it on track, but essentially it works."
Brailsford anticipates a dip in track performance in the lead-up to the Rio de Janeiro Olympics in 2016, but is ambitious as ever.
He added: "You can't sustain this level for four years. (But) our job is to believe it is possible to do even better.
"You've got to go there and think, 'Let's go and win all 10'. That's got to be your starting point, whether it happens or not."
Whether he will still be in charge remains to be seen.
Brailsford, who paid tribute to British Cycling chief executive Ian Drake for backing his ambition, earlier this year hinted he was unlikely to be able to continue doing both roles on a full-time basis and that Team Sky would become his primary focus.
With the three-day BMX competition ongoing and mountain bike to follow this weekend, the 48-year-old was reluctant to discuss his future.
"I'll get home and have a good think about it," he added.
"If people see continued success, people are interested in the repeatability. They think maybe it can be applied elsewhere.
"I get offered all kinds of different opportunities. It's very flattering."