US march on
Australia await in the semi-final
Last Updated: 08/08/12 8:33am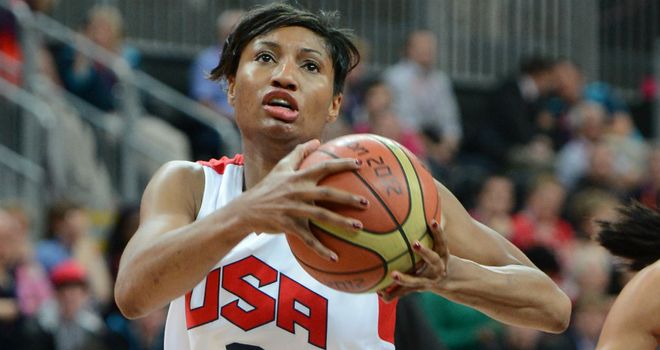 Angel McCoughtry: Has hailed a 'special' US team
The USA remain on track for a record fifth straight Olympic gold medal in women's basketball after routing Canada 91-48.
The Americans have now recorded 39 successive victories in the Games with Canada no match for their rivals.
The US now take on Australia for a place in the gold medal match - with Angel McCoughtry, who landed 11 points against Canada, confident the squad can continue their charge.
"Our team is special," said McCoughtry said. "It is all about the chemistry. It's a group of stars that work together for the team. It's like the Barcelona 1992 Dream Team for women."
Lauren Jackson with lead Australia's challenge - with the 31-year-old breaking the all-time Olympic scoring record in the 75-60 quarter-final victory over China.
Jackson scored 12 points to edge her ahead of Janeth Arcain with 536 points in Olympic competition.
But despite her individual success Jackson is choosing to focus on the clash with the States.
Size
"I just hope we win on...what day is it today? On Thursday," she said.
"That's all I can comment on. It's nice, but this is a team sport and I can't be happy with something (that's just me).
"We've had to come back a few times in games, but we don't want it to be like that against the Americans, they're too good.
"It's going to be a really interesting game in terms of how we respond to their size and running. It will be a very different game."
The other semi-final will see France take on Russia after they came through their quarter-final clashes with narrow wins.
France stormed back from a 13-point deficit late on to stun Czech Republic 71-68, while Russia held off Turkey in a dramatic finish to win 66-63.