Proctor, Osagie into finals
Brits through in women's long jump and men's 800m
Last Updated: 07/08/12 10:28pm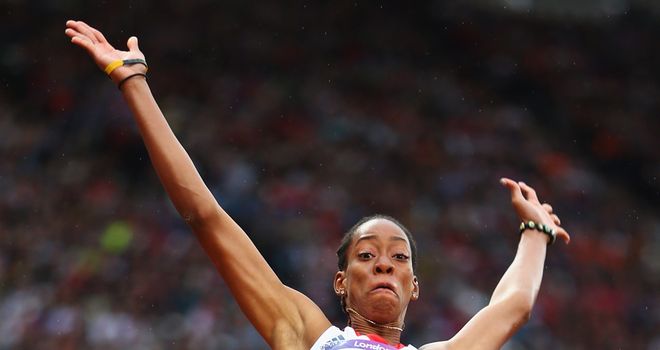 Shara Proctor: Top qualifier for the long jump final
Great Britain's Shara Proctor and Andrew Osagie both moved into athletics finals in the Olympic Stadium on Tuesday night.
Proctor eased through in the long jump, while Osagie impressed to finish second in his 800m semi-final to book a final spot.
The Anguilla-born Proctor leapt out to 6.83 metres with her first attempt to secure automatic qualification. It turned out to be the longest jump of the day.
The effort was further than the winning mark at last year's World Championships and well clear of the automatic qualifying mark of 6.70m, establishing her as a medal contender.
"This is a dream come true,'' she said. "All I wanted to do was make it to the final, that was the hardest part.
"I did it, now I have to go back tomorrow, jump far and get a medal.
"I feel like I am in good shape. I want to go for seven metres, but I am not going after distance, I am just trying to get a medal and whatever it takes to get a medal, that's what I have to do."
The 23-year-old British record holder cannot compete for her native Anguilla at the Olympics because the Caribbean island does not have its own National Olympic Committee. It is a British overseas territory and Florida-based Proctor has a British passport.
Big guns
Osagie's strong finish to his semi-final brought him through into a qualifying position.
He finished behind the red-hot gold-medal favourite David Rudisha, Kenya's world champion, in a time of one minute 44.74 seconds.
Abi Oyepitan and Margaret Adeoye failed in their bids to make the 200m final though.
Oyepitan finished sixth in her semi-final in 23.14 seconds with her team-mate seventh in her race in 23.28.
All the big guns progressed, led by 400m champion Sanya Richards-Ross.
In the night's track finals, Algeria's Taoufik Makhloufi went from zero to hero by winning 1,500m gold.
The African had been ejected from the event on Monday after dropping out of his 800m heat and being declared a 'non-trier'.
However, after providing medical reasons for his mid-race pull-out he was reinstated and Makhloufi made the most of his second chance, crossing the line in a winning time of three minutes 34.08 seconds.
Leonel Manzano, of the USA, took the silver and Morocco's Abdalaati Iguider the bronze.
Meanwhile Sally Pearson justified her status as favourite for the 100m hurdles by winning gold in a new Olympic record of 12.35 seconds.
Ahead in the early stages, Australian held off a late surge from American Dawn Harper, who finished just 0.02 back.