Robbie grabs bronze
European champion below best but still claims a medal
Last Updated: 07/08/12 11:07pm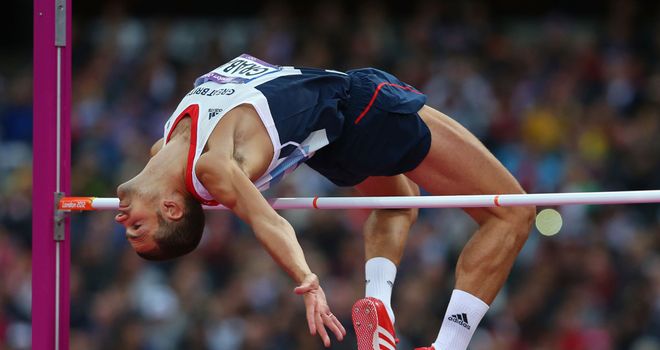 Robbie Grabarz: Won high jump bronze
Briton Robbie Grabarz leapt to an Olympic bronze medal in the high jump on Tuesday night.
The European champion's height of 2.29m was well below his best - he cleared 2.36 earlier in the season - but it was still enough for a bronze.
Grabarz actually finished joint third alongside Qatar's Mutaz Essa Barshim and Derek Drouin of Canada after all three cleared 2.29 at their first attempt before failing at subsequent heights.
Russia's Ivan Ukhov took the gold with a best effort of 2.38 ahead of American Erik Kynard (2.33). Jesse Williams, the world champion, finished back in joint ninth.
Grabarz is one of the British team's most colourful characters, leaving a university course he cannot remember the full name of and posing naked for a gay magazine in the past.
He even lost his Lottery funding after finishing last year ranked 28th in the world and considered quitting only for some harsh words from coach Fuzz Ahmed to turn his career around.
A medal completed a remarkable season and the British star was delighted.
"If someone had said I'd get a medal here I'd had bitten their hand off," Grabarz said. "It's fantastic. I'm so happy, I'm over the moon.
"I had just been wasting too much time and I wasn't applying myself.
"At the end of the year my coach sat me down and said 'you're wasting your time and my time'. He told me to go away and sort myself out or don't come back. Here I am and I've got a medal.''
Disappointing
Meanwhile, Lawrence Okoye's hopes of a discus medal disappeared with a disappointing performance in his final.
The 20-year-old, who produced a throw of 65.28 metres in qualifying, could only manage a best of 61.03m to finish in 12th place.
The former rugby player, who has deferred a place at Oxford to study law to concentrate on athletics, was appearing in his first major championship in his home town.
He said: "I think I was trying a bit too hard today but it's come and gone now and I have to move on.
"I didn't anticipate coming last in the final. 'It's been a good couple of years. Obviously it's ended in failure, but I gave it my all, maybe a bit too much."
Germany's Robert Harting took gold with a best throw of 68.27m.
He celebrated in style by whipping his top off and embarking on a lap of honour draped in the German flag before leaping over the barriers set out for the 100m hurdles final.
Iran's Ehsan Hadadi took silver with 68.18m and Estonia's Gerd Kanter bronze (68.03).