Trott wins omnium gold
Sixth track cycling gold for Team GB
Last Updated: 08/08/12 6:14am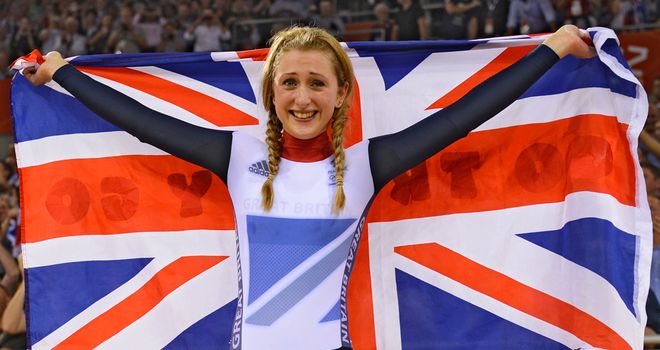 Trott: Second gold of the Games
Great Britain's Laura Trott claimed her second gold medal of London 2012 Games by storming to victory in the women's omnium.
The velodrome was the day's hot ticket, with everyone from Prince Harry to basketball star Kobe Bryant in attendance, anticipating success for Sir Chris Hoy and Victoria Pendleton on their final Olympic appearances.
But it was Trott's turn to take the limelight first.
The 20-year-old from Cheshunt - who also sealed team pursuit gold on Saturday - has now joined an elite group of British female athletes to have won double gold at a single Games, including Dame Kelly Holmes and swimmer Rebecca Adlington.
Trott won Track Cycling World Championships gold in each event and now has double Olympic gold too.
Sarah Hammer of the United States was second, with Annette Edmondson of Australia third.
Trott was two points behind Hammer entering the final discipline, the 500m time-trial, but claimed her third win from six disciplines to overhaul the deficit and win by a point.
She clocked 35.110 seconds, with Hammer finishing fourth in 35.900sec as a jubilant Trott triumphed on 18 points, with Hammer finishing with 19.
The effervescent Trott celebrated with family and team pursuit colleague Dani King before riding a lap of honour draped in the Union Flag as the capacity crowd chanted her name.
All right on the night
After exiting the boards, she said: "I came into today not feeling as good as yesterday, and I was losing my head a bit between events because they weren't going the way I wanted them to.
"To finish off with that 500m, I can't believe it. I'm really happy.
"Paul Manning, my coach, got me to peak right on time. I couldn't ask for much more from the coaching staff.
"They've helped me improve so much since the Worlds.
"It's all thanks to the coaches really, and my family and friends are here too, and the support of the crowd..."
She was full of thanks for her parents, adding: "I couldn't have done it without them.
"The amount of money they had to put in when I was younger, taking me here, there and everywhere, and my dad gave up his cricket."
Elsewhere, Edmondson finished second in the 500m time-trial to secure bronze, with Canada's Tara Whitten fourth.