Hoy claims sixth gold
Second medal for Sir Chris in the 2012 Games
Last Updated: 08/08/12 7:33am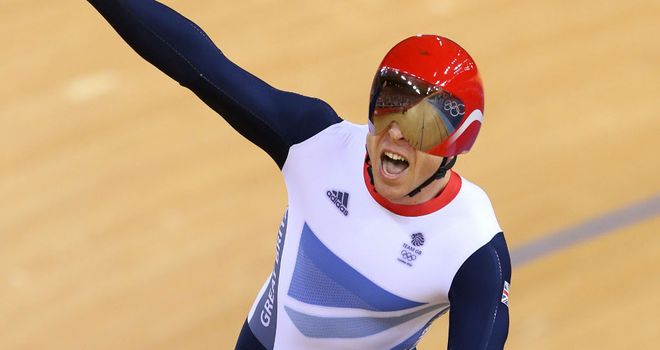 Sir Chris Hoy: Storming performance in London
Sir Chris Hoy became the most successful British Olympian ever by winning his sixth gold medal in the men's Keirin.
The 36-year-old Scot moved level with Sir Steve Redgrave on Thursday by taking his first gold of the London 2012 Games in the team sprint and then went one ahead of the rowing legend by sealing the Keirin title in stunning style.
Germany's Maximilian Levy was second, while two bronze medals were awarded as Simon van Velthooven of New Zealand and Teun Mulder of Holland could not be separated by officials scrutinising the photo finish.
In the race, Hoy sat third behind the motorised Derny and appeared boxed in as Malaysia's Awang Azizulhasni made his move just before the pace-setting bike left the track.
The Scot swiftly found a gap and eased to the front of the six-man group before turning on the power in the last lap to successfully defend the title he won in 2008.
Hoy was received by all members of the British coaching staff as he exited the track and said goodbye to the Olympic stage for a final time.
Looking ahead
Hoy - who won one-kilometre time-trial gold in Athens eight years ago and triple Olympic gold four years later - said: "I'm 99.9% sure I won't be competing there in Rio. How can you top this? This is phenomenal.
"The 2014 Commonwealth Games in Glasgow? That's another question.
"If I can keep going to Glasgow that would be a dream ending for me but when you get to my age you can't look too far ahead, you have to focus on the here and now."
On his keirin victory, he said: "I'm in shock. You try to compose yourself and try to be able to take it all in but this is surreal.
"This is what I always wanted. I wanted to win gold in front of my home crowd.
"I've done the team sprint, I saw Jason (Kenny), the team pursuit girls, the team pursuit boys, everyone stepping up to the plate, Laura (Trott) today, and I just wanted to do my bit for the team as well. Thankfully it worked out."
Amazing feeling
Hoy added: "I can't express the feeling that I'm having right now, it's just unbelievable, it's the most amazing feeling.
"This is the perfect end to my Olympic career, I look back four Games ago to Sydney and I was just over the moon to have a silver medal.
"If I'd stopped then I'd have been a happy boy but to have gone to Athens, Beijing and to here, I can't put into words what it means.
"There's no way I could have done it without the support team we've got here. This is very much a team effort and I'm literally just the one person you see at the top of the pile. There are 100 guys working away in the background that don't get the credit.
"I think people see the final polished product of the British team and they think we must be super confident, we must win all the time it must be easy for us, it's anything but.
"There have been some really difficult moments and to get through them all and succeed here, it's just one of the greatest feelings I've ever had."