Shattered dreams
The British duo see their 2012 golden dreams fall apart
Last Updated: 02/08/12 5:48pm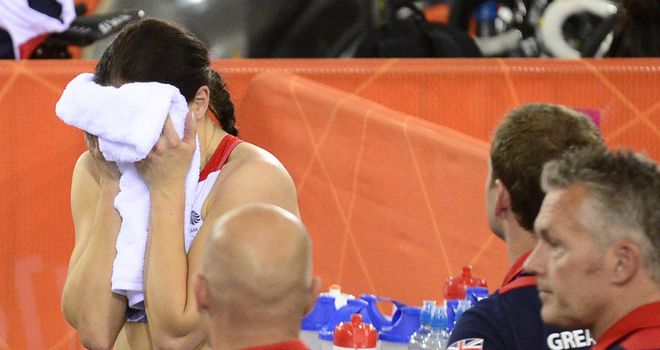 Victoria Pendleton: Along with Jess Varnish the pair saw their Olympic dreams shatter
Victoria Pendleton and Jess Varnish's dreams of winning gold in the inaugural women's team sprint at the Olympics were shattered after the pair were relegated from the competition on Thursday.
Pendleton and Varnish had qualified for the gold medal match with China but were later relegated by judges for "an illegal change."
China will meet Germany in the final while Australia will meet Ukraine in the battle for bronze.
An International Cycling Union (UCI) official later said that the pair were disqualified after Varnish "peeled off too early" in the changeover zone on the track prior to Pendleton starting her lap.
The setback ends Pendleton's bid for three gold medals at the Games, in which she is also competing in the sprint and keirin.
Mistake
Pendleton said: "It was an illegal change. I came through in the change zone about a metre too early; we're talking about one hundredth of a second of a mistake there.
"Jess moved up a fraction too early and I just saw the door and went for it, because that's my cue to try to squeeze underneath her as quickly as possible.
"It's one of those things that happens. It's quicker than a blink of an eye.
"You have to stick by the rules. The rules are there to make it a fair sport.
"Unfortunately we fell on the wrong side of that today. It wasn't intentional, obviously."
Good form
A distraught Pendleton, who had earlier set a world record in the event, added: "It's just one of those things that happened. We were probably just a bit too eager and excited for a ride.
"Now and again rubbish things happen and this is one of those. The only positives I can take is I know I'm in good form"
After Britain's new world mark of 32.526sec, Chinese duo Gong Jinjie and Guo Shuang went on to set two new worlds records on their way to the final.
Having set a record of 32.447sec in topping qualifying, the Chinese pair then led the first round times in a new world mark of 32.442.
The previous record of 32.549sec was set by Germany's Kristina Vogel and Miriam Welte in Melbourne last April.