Golden boy
Smith praises Tour de France king after Olympic heroics
Last Updated: 01/08/12 5:23pm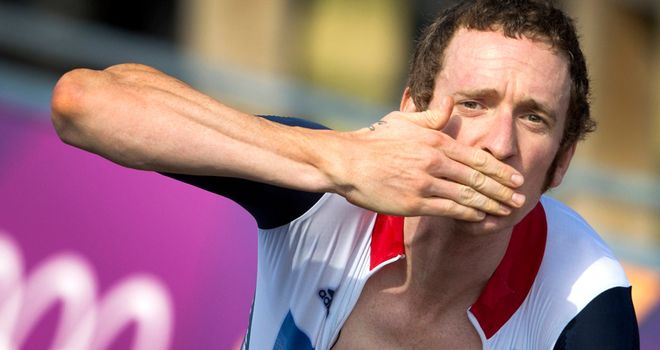 Just golden: Wiggins takes his fourth career gold
Bradley Wiggins' win will inspire the rest of Team GB, Brian Smith told Sky Sports News.
"This was an individual effort and he's come here and absolutely blitzed the time trial. "
Brian Smith Quotes of the week
Britain's first ever Tour de France winner followed up last month's sensational three-week triumph with Olympic time trial glory in south west London, beating Germany's Tony Martin to gold, with Britain's Chris Froome a fine third.
Team GB were still searching for their first gold of their home Games going into day five, but, after the success of rowers Helen Glover and Heather Stanning in the morning and Wiggins' victory against the clock in the afternoon things are looking up for the host nation.
"This is a big day for British cycling and a big day for Team GB," said Smith.
"Bradley Wiggins deserves that gold medal. He's come from the track to win the Tour de France, which is like going from running the 1500m to doing marathons. Then, three days after riding the Olympic road race for Mark Cavendish, he does this.
"This was an individual effort and he's come here and absolutely blitzed the time trial.
"And don't forget Chris Froome's bronze medal. It's amazing, a great moment for Team GB and medals which will hopefully boost the whole team across all the sports. This can really kick start our medal tally."
With Wiggins and Froome on the podium at the Olympics less than two weeks after sharing the podium at the Tour de France, where Froome took an impressive second place, British cycling is enjoying a spell of success unimaginable a few years ago, says Smith.
"Cast your mind back to the Barcelona and Atlanta Olympics," he said. "It was a hard task to win gold medals on the road and even get to the Olympics. I hope people will now look at cycling as a sport they can become successful in. These have been great achievements by Wiggins and Froome.
"With Bradley ringing the bell at the Opening Ceremony and Sir Chris Hoy bearing the flag cycling is coming to the fore. It has been in the shadows for so long but now, with kids going out and getting involved, hopefully we'll see more and more medals coming in the future."