Pistol gold for Kim
British shooter misses out on final appearance
Last Updated: 01/08/12 4:34pm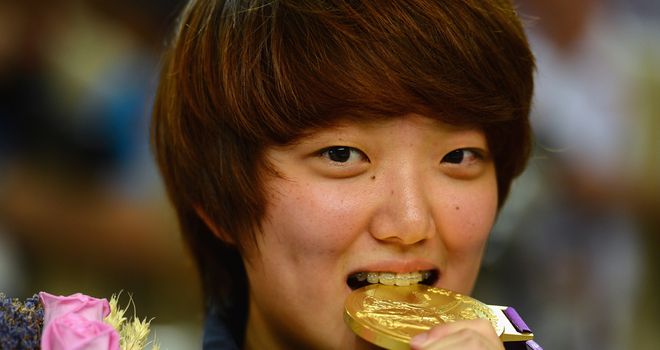 Kim Jangmi: Gold and new Olympic record
South Korean teenager Kim Jangmi beat reigning Olympic champion Chen Ying of China with her final round to win gold in the women's 25m air pistol.
The 19-year-old, who won the World Cup in London which doubled as the Olympic test event in April, showed her liking for the Royal Artillery Barracks by setting an Olympic record in qualifying.
Then in the final, she rattled off a five-shot final round of 51.8, including a perfect bullseye of 10.9, to leapfrog Beijing winner Chen at the death.
Olena Kostevych, of Ukraine, took the bronze medal.
Earlier in the day, British shooter Georgina Geikie had failed in her bid to reach the final.
The 27-year-old from Devon finished 37th out of 39 competitors after the qualification round, which consisted of precision shooting and rapid firing stages.
Precision
She scored 284 in the first stage and followed with 278, for a combined total of 562 out of 600 which left her 21 points outside the top eight.
Geikie was disappointed with her performance, which came after she finished 47th in the 10m event on Sunday.
But the part-time barmaid can take great satisfaction in competing as Britain's first pistol shooter in the Olympics since 1996.
"I'm a little bit disappointed to be honest," she said.
"I simply made some errors, it was pilot error.
"In the precision I think I was quite unlucky. Some of my shots were just outside the 10, and in qualification a 9.9 is not a 10, which is hard.
"Then I made quite a few errors in the rapid. But I've competed in the Olympics and had an amazing experience."