Winston bows out
Team GB judo veteran goes out despite excellent start
Last Updated: 01/08/12 9:01pm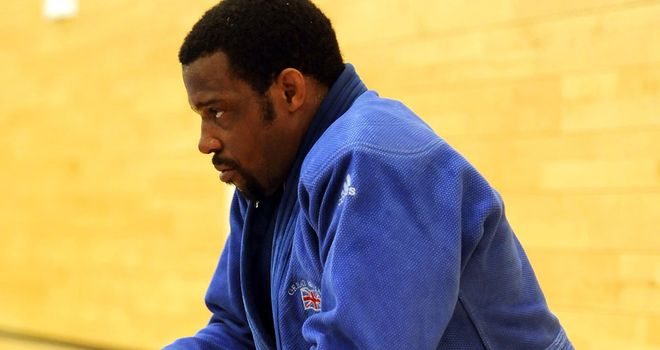 Winston Gordon: Started so promisingly before going out
Winston Gordon's Olympic dreams were ended despite a stunning start in the under-90kgs at ExCeL on Tuesday.
The 36-year-old Londoner, appearing in his third Olympics, briefly lit up North Arena 2 with an ippon win over Alexandre Emond of Canada in the first round.
The veteran, who just missed out on bronze from the Athens Games in 2004, executed a perfect Tai-otoshi body drop to dispatch the world number 14.
However, despite a standing ovation from the British crowd and shouts of "Winston" from around the arena, his hopes were distinguised in the next round by seventh seeded Russian Kirill Denisov.
Gordon - who is sensei at the EB Phoenix Judo Club in Tooting - was caught by a Yuko score after one minute and 15 seconds.
Despite going back on the offensive, Gordon still trailed 1-0 heading into the final 30 seconds and went out by the narrowest of margins.
Gordon felt he could be proud of his efforts against the Russian, who was third at the 2012 Paris Grand Slam.
Counter
He said: "It was a tight match against a left-hander, which was very awkward. He caught me with a little counter and then locked up the shop, but he is an experienced fighter and is no mug.
"I put everything I could into the fight, but he kept it tight."
Gordon praised the "fantastic" atmosphere in front of a home crowd.
He said: "It took me back to the 2002 Commonwealth Games in Manchester. The crowd were phenomenal, they came in numbers to support me, family and friends, guys came over from Spain to support me and give me a good roaring on."
Gordon will take time to decide his future.
"The battle in itself was getting here," said the Londoner, who earned his place in the GB squad on appeal to the BOA.
"We have to sit back on the mat and discuss things over the next couple of months."
Song Dae-nam from South Korea, the 11th seed, claimed the Olympic crown with a golden-score win over Cuban Asley Gonzalez.
Both fighters picked up warnings for passivity, before the South Korea coach was again sent out for barking instructions during play as the tussle headed into the final 30 seconds.
Song then won the gold with a reverse leg sweep to claim a wazari on golden score - as his coach ran back into North Arena 2 in wild celebration.
World champion and top seed Ilias Iliadis - who won the under-81kgs title at the Athens Olympics - was beaten in the quarter-finals, but fought back to take bronze by edging past Tiago Camilo of Brazil, who had twice made the podium at previous Games.
Flags
Masashi Nishiyama of Japan, the second seed, claimed the other bronze by beating defeated semi-finalist Kirill Denisov of Russia on the judges' flags.
Meanwhile, there was also disappointment for Britain's Sally Conway in the under 70kgs category.
The 25-year-old, who started with a first round win over Carine Ngarlemdana of Chad, then came up against second seeded Dutchwoman Edith Bosch, the double Olympic silver medallist.
The North Arena was buzzing again when Conway walked in for her second-round contest just after 11:30.
However, the Dutch fighter was a step up in class, having claimed the European title earlier this year.
However, to her credit, Conway went on the attack, but found her attempts at getting the right grip quickly countered.
There was no score heading into the last two minutes, but Conway then picked up a shido penalty for backing off.
A wazari score from Bosch followed, to leave Conway facing elimination unless she could produce a wonder throw in the final 25 seconds.
The big score never came, and again despite a morning of initial promise, Britain's judo hopes were again extinguished before the afternoon medal session.
Conway felt a lapse in concentration cost her a shot at the medal stage.
"I always knew it was going to be a tough fight, she is the former world champion and Olympic silver medallist, but I have got closer to her past matches, so I felt I could do it today. I came here to win and was not able to," said Conway, fighting back tears.
"One little tiny mistake cost me, and to come back from a wazari against a top fighter like that is hard.
"I tried my best, but it just did not happen this time.
"I am definitely going to be wanting that gold in Rio now, so I will keep working hard."
Conway paid tribute to the crowd, who were again left to reflect on what might have been for Team GB.
She said: "The atmosphere was amazing and I could not have asked for much more.
"I just hope they get behind the rest of the team who have still to fight and hopefully something good can come out of it."
Team GB are looking to end a 12-year wait for a judo Olympic medal, since Kate Howey won silver in Sydney.
Short of victory
In the final, World champion Lucie Decosse claimed Olympic gold for France with victory over German Kerstin Thiele.
The 30-year-old middleweight scored an early wazari, which she followed up with a holdown for 19 seconds, just one second short of victory.
However, it did not prove costly as Decosse closed out the win for France's first judo gold of London 2012.
European champion Edith Bosch of Holland, the world number two, had to be content with bronze after being sent into the repechage following a shock quarter-final defeat to Olympic debutante Thiele.
Bosh recorded a late Yuko to send her clash against Korea fighter Hwang Ye-sul, the world number six whose coach was sent out of the area during the contest, into golden score, and then secured another Olympic medal on judges' flags.
The other bronze went to Alvear Yuri of Colombia after she beat China's Chen Fei, who had lost a brutal semi-final against Thiele only on the officials ruling at the end of golden score.