Ye hits back at drug slurs
Chinese swimming sensation insists she has nothing to hide
Last Updated: 16/08/12 4:56pm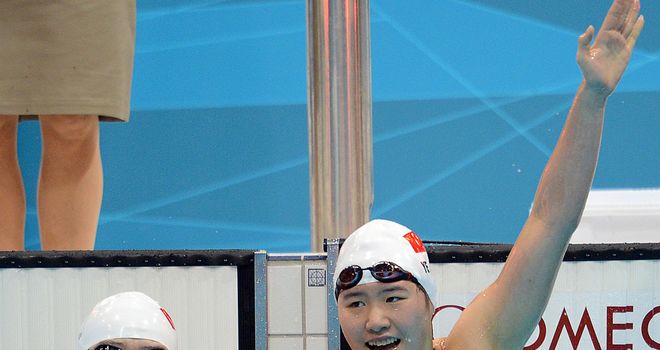 Ye Shiwen: Her performances in the pool in London have aroused suspicion
China's record-breaking swimming sensation Ye Shiwen has hit back at doping allegations in the wake of her incredible performances at the London Games.
"She looks like superwoman. Any time someone has looked like superwoman in the history of our sport they have later been found guilty of doping."
John Leonard Quotes of the week
Ye, 16, produced a quite remarkable swim to win the 400m individual medley, smashing the world record by over a second - and her personal best by over five seconds - with a final freestyle leg that was quicker than US winner Ryan Lochte and Michael Phelps in the men's race.
That time prompted rumblings from the US camp with American coach John Leonard describing her world-record breaking race as "disturbing" and "unbelievable", while previous world record holder Steph Rice described as the time as "insanely fast".
Leonard went on to add: "We want to be very careful about calling it doping.
"The one thing I will say is that history in our sport will tell you that every time we see something, and I will put quotation marks around this, 'unbelievable', history shows us that it turns out later on there was doping involved.
"That last 100m was reminiscent of some old East German swimmers, for people who have been around a while. It was reminiscent of 400m individual medley by a young Irish woman in Atlanta."
That was a reference to Irish swimmer Michelle Smith who was banned for four years in 1998, two years after Atlanta, after testing positive for androstenedione.
Mr Leonard said: "She looks like superwoman. Any time someone has looked like superwoman in the history of our sport they have later been found guilty of doping."
Nothing to hide
Ye herself insists the team have nothing to hide, saying: "The Chinese team keep very firmly to the anti-doping policies, so there is absolutely no problem."
International Olympic Committee (IOC) medical commission chairman Arne Ljungqvist, a veteran anti-doping competitor, did not express any concerns when asked if he had any suspicions regarding the swimmers in London.
Mr Ljungqvist said: "I am pretty experienced in this matter, as you know, and have been at the Games since a long time and within anti-doping for 40 years.
"Should I have my suspicions I keep them for myself, first of all, and take any action, if so, in order to find out whether something is wrong or not.
"You ask me specifically about this particular swimming. I say no, I have not personally any reason other than to applaud what has happened, until I have further facts, if so."
The amazing improvement in performance will have alerted doping control officials however for target-testing.
London 2012's head of anti-doping Jonathan Harris confirmed: "Enhancements in performance is something we focus on so we target those athletes."
China's poor past record
If China are unhappy about their new champion being the focus of any suspicion, they only have their own record to blame. During the 1990s, 40 Chinese swimmers tested positive for banned substances, and seven before the Beijing Games in 2008.
As recently as last month, 16-year-old world champion in the 4x100m medley Li Zhesi tested positive for the blood boosting drug EPO.
Ms Rice, from Australia, would not be drawn on whether she thought Ye Shiwen's performance was legitimate.
"I have no idea," she stated. "I mean, I wouldn't want to get into that at all, but a 58 is an insanely fast swim, but I know she's a good freestyle swimmer.
"I swam next to her at worlds in the 200 IM last year and she came home over the top of me in that freestyle leg and I'm not exactly a bad freestyler, so she's a gun in freestyle."
Meanwhile, Mr Harris revealed that cleaners and security staff in the Olympic Village had been briefed to report any evidence of doping by athletes, such as needles or discarded medication packets.
"If they should come across any practices of paraphernalia they would bring it to our attention," he said.
He added that the anti-doping effort was now heavily reliant on the use of intelligence with any new information discussed on a daily basis with the UK Anti-Doping body.