Smith PB not enough
Britain's weightlifting poster girl produces a gutsy effort
Last Updated: 30/07/12 11:07pm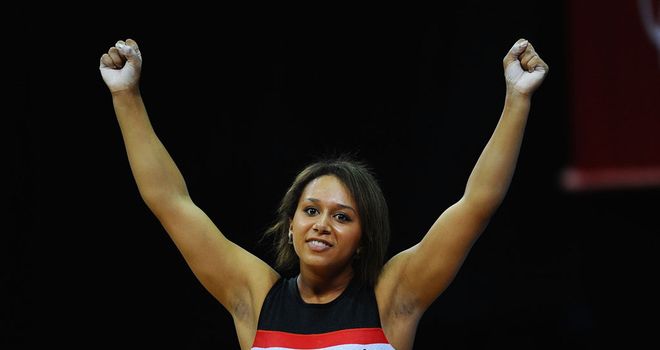 Zoe Smith: Roared on by a partisan crown
Zoe Smith set a new British clean and jerk record and new personal best total on her Olympic weightlifting debut - but it was only enough to finish 12th in the women's 58kg after China's Li Xueying took gold.
Competing in Group B earlier on Monday in front of electric home support at ExCeL, the Greenwich-born 18-year-old succeeded in her first snatch attempt of 90kg but - struggling with her bar grip and appearing nervous - failed in her following two at 93kg, with her previous personal best coming in at 92kg.
But she calmed and redeemed herself in the clean and jerk element, equalling her personal best of 116, failing at 121, before succeeding in her final attempt at 121kg - beating Michaela Breeze's British record of 120kg set eight years ago.
It was enough to give her a total of 211kg, three kilos better than she managed at the European Championships in April although 1.5kg off the British record total.
Great Britain's weightlifting poster girl then took to the stands to watch the elite A group lifters compete on the platform.
And it was left for Li to claim gold after recording a total of 246kg - 35 kilos more than Smith - with Thailand's Pimsiri Sirikaew winning silver (236kg) narrowly ahead of Yuliya Kalina, from Ukraine, who walked off with bronze (235kg).
Happy
The leading lifters in the world are on a different level, with Li setting a new Olympic record in the snatch and total, while equalling the current clean and jerk best.
But ever-improving Smith achieved her aim coming into London 2012 of setting a new PB and taking a British record, and for that the 2010 Commonwealth Games bronze medallist is happy.
"I've been after those records for a long time," Smith said. "It was Michaela Breeze's record, she's here today and she's an Olympic legend in weightlifting, so to have that record at the age 18 is promising good things for me.
"Onwards and upwards from here, I want to break the rest of them now."
An emotional Smith added: "I gave it my all today.
"I guess my head was somewhere else (early on) and I was acclimatising to the fact there were 6,000 people cheering my name.
"I managed to pick it up in the clean and jerk phase and I got a senior British record so I guess I've shown I can come back from a disappointment and 'bring it' if you see what I mean.
"The scale, 6,000 people compared to having maybe competed in front of 600 people before, and knowing that I was competing at the Olympics, I think the nerves got to me more than I thought they would. I know I should have prepared myself for that but there's only so much I can do.
"It was my first Olympics, I had no idea what to expect."